2013: Another No-premium Year Ahead for NCUSIF?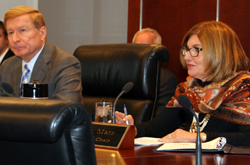 NCUA Chairman Debbie Matz said Thursday that it's possible the National Credit Union Share Insurance Fund could close 2013 at an operating level at or near 1.3 percent of insured shares, in which case no premium would be needed.
Matz, speaking during the open board meeting, said data show improvements in the credit union industry's health and stability. "While the demands on the Share Insurance Fund in 2013 will be determined by many economic factors and by possible unforeseeable losses, the most likely scenario we project would result in an equity ratio . . . just under 1.30 percent of insured shares by the end of next year," she said. "That would mean there would be no need for a premium."
NCUA staff on Thursday projected an NCUSIF premium range between zero to 5 basis points in 2013. The assessment for the Temporary Corporate Credit Union Stabilization Fund is projected at a range of 8 to 11 basis points.
NAFCU is urging that NCUA ensure against over-reserving in the NCUSIF and that no premium be assessed next year, which would be a repeat of this year's decision on a premium. It continues to urge the agency to keep stabilization assessments as low as possible.