5 Credit Card Tips For New Grads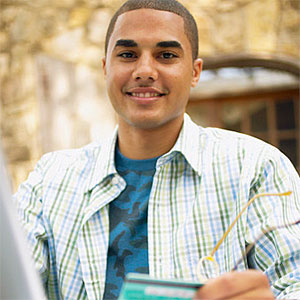 Credit cards can come with a temptation to live beyond your means — and that can quickly lead to trouble. But manage your cards well, and you can reap rewards later.
This post comes from Jason Steele of partner site Credit.com.
American college students tend to have a rough time with credit cards. Without much real-world personal finance experience, many spend beyond their means and graduate with credit card debt. And even for those who are lucky enough to complete school without debt, the threat continues to loom after graduation.
So how can recent graduates enjoy the convenience and security of credit cards without getting into trouble with debt? Here are a few tips:
1. Keep it simple. It is easy to get caught up in the hype promoting credit card perks and rewards, but these benefits are not worth it if they lead to debt. Instead, recent graduates should focus on finding cards with the fewest fees and the simplest terms.
2. Always pay your balance in full. This is the single most important piece of advice that can be offered. Those who pay their entire statement balance each month avoid costly interest charges, and there isn't a better time to get in this habit than after graduation. And the lesson of living within your means, instead of on hoped-for future earning, applies well beyond credit cards.
3. Get a card where you bank. The easiest way for new grads to manage a credit card account is to open the account at the same institution where they keep their checking and savings accounts. Since most retail banks and credit unions offer credit cards, customers are able to manage all of their accounts from one website. Living within your means then becomes a simple matter of ensuring that the outstanding credit card balance is less than the funds in their checking account. In addition, paying bills is just a transfer of funds between two accounts within the the same institution.
continue reading »