5 directors earn top credit union honors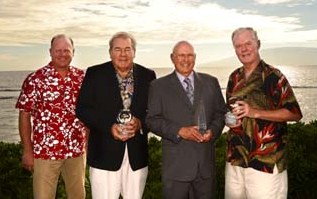 CUES Director of the Year presented and four inducted into CUES Volunteer Hall of Fame
At a ceremony at CUES' Directors Conference in Lahaina, Maui, Hawaii, last night CUES presented the 2013 CUES Director of the Year award to Ronald J. Seaman, chairman of $1.97 billion SAFE Credit Union, North Highlands, Calif.
Seaman has been a credit union volunteer for 27 years, and board chairman for the past 15 years. He is active both at the community level and politically on behalf of SAFE CU. His political advocacy includes efforts at the local, state and national levels. Additionally, he is a regular participating member of the credit union's asset/liability management, information technology, and executive committees.
Seaman has served on the California Credit Union League Board, as well as on the Sacramento Valley Chapter Board. The chapter has been awarded the Chapter of the Year Award numerous times during his service. Additionally, Seaman served on a committee that redesigned the chapters and the structure of the league board to improve representation and encourage better member participation.
The CUES Director of the Year award recognizes board members for excellence in credit union volunteerism based on their achievements at the credit union; contributions to other credit unions, credit union organizations and the community; and professional development and education.
Accepting the award, Seaman said: "I really have to thank CUES for the award this evening. I'm very appreciative of the recognition–and it's a little overwhelming to tell you the truth. I also have to thank my board, CEO and staff at SAFE CU for their support over the years. And finally, I have to thank my wife Kathy for allowing me to put in many hours of work at the credit union."
In addition, four credit union directors were inducted into the CUES Volunteer Hall of Fame during the awards ceremony. They are:
continue reading »