6 Rules Imparted At Women's Leadership Summit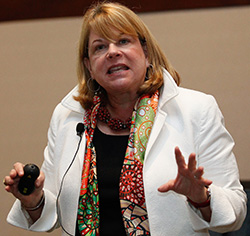 Executive Leadership Expert Mary Davis Holt on Wednesday gave women attendees at NAFCU's Annual Conference and Solutions Expo helpful insight and perspective on taking the next steps for successful career development and building a professional network.
Yesterday during the Women's Leadership Summit, Holt, best-selling author of "Break Your Own Rules: How to Change the Patterns of Thinking that Block Women's Paths to Power," let attendees in on her insights and rules for success learned through her experience in executive positions at Time Warner. Holt exercised oversight over areas ranging from finance to information technology, marketing, human resources, manufacturing and distribution. She also held a number of leadership roles in the publishing group including senior executive vice president and chief operating officer of Time Life, Inc. and with Time Inc.'s magazines.
"I believe corporate America would be better if there were more women at the top," Holt told the conference attendees.
During the seminar, Holt provided credit union attendees with six new rules from her book:
continue reading »