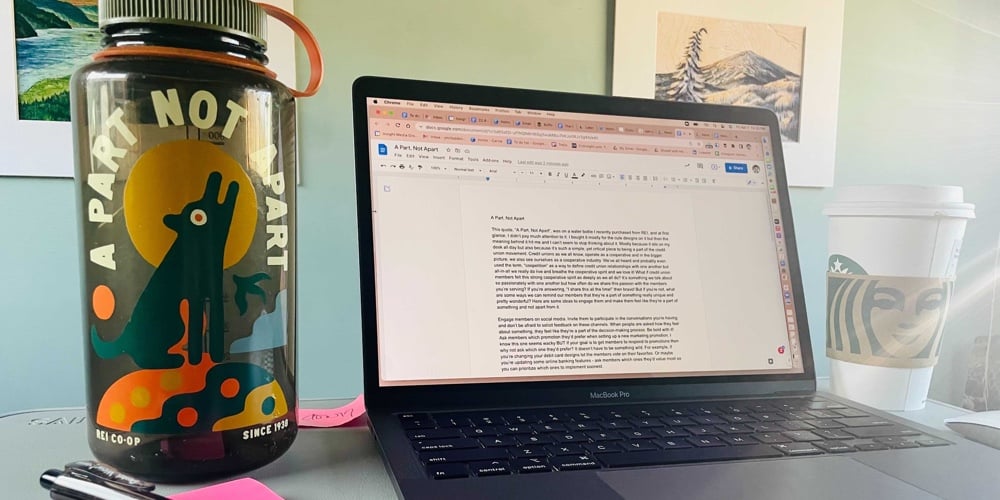 This quote, "A Part, Not Apart", was on a water bottle I recently purchased from REI, and at first glance, I didn't pay much attention to it. I bought it mostly for the cute designs on it but then the meaning behind it hit me and I can't seem to stop thinking about it. Mostly because it sits on my desk all day but also because it's such a simple, yet critical piece to being a part of the credit union movement. Credit unions as we all know, operate as a cooperative and in the bigger picture, we also see ourselves as a cooperative industry. We've all heard and probably even used the term, "coopetition" as a way to define credit union relationships with one another, but all-in-all we really do live and breathe the cooperative spirit and we love it! What if credit union members felt this strong cooperative spirit as deeply as we all do? It's something we talk about so passionately with one another but how often do we share this passion with the members you're serving? If you're answering, "I share this all the time!" then bravo! But if you're not, what are some ways we can remind our members that they're a part of something really unique and pretty wonderful? Here are some ideas to engage them and make them feel like they're a part of something and not apart from it.
Engage members on social media. Invite them to participate in the conversations you're having and don't be afraid to solicit feedback on these channels. When people are asked how they feel about something, they feel like they're a part of the decision-making process. Be bold with it! Ask members which promotion they'd prefer when setting up a new marketing promotion. I know this one seems wacky BUT if your goal is to get members to respond to promotions then why not ask which one they'd prefer? It doesn't have to be something wild. For example, if you're changing your debit card designs let the members vote on their favorites. Or maybe you're updating some online banking features – ask members which ones they'd value most so you can prioritize which ones to implement first.
Create a unique digital brand experience for your digital members without disrupting their digital journey. You already know the members who frequently visit the branch or call in, and building relationships with them is pretty easy. But what about your digital members? How are you building relationships with them and ensuring they feel like they're a part of the credit union? I can't believe I'm saying this as a marketer, but what if you used some of the ad space in the mobile app to say a quick message of appreciation? Maybe a, "Hi, it's nice to see you today!" greeting as they log in. You could also send your digital users an email thanking them for using your digital services and ask for feedback from them. Invite your frequent users to participate in beta tests for new features and releases. And don't be afraid to ask them to leave reviews for your mobile app!
Build a member dividend program but switch it up a bit. I don't mean in the form of lower loan rates and higher deposit rates; credit unions already do that and honestly, it's not that exciting anymore because a lot of online banks beat us when it comes to rates. I mean a dividend program that rewards member usage and gives back to the cooperative. Some refer to this as bundling or a member loyalty program but I think there's power in calling it a dividends or cashback program and here's why. Going back to the REI reference from above…I can buy a water bottle at A LOT of different places, just like I can get a credit card at a lot of places, but I choose to buy it (and many, many other things) from REI because I know the power of being a member there. I know the more I spend with them, the more dividends I'll get at the end of the year that I get to spend back at REI. So what if we gave members dividends or cashback at the end of the year and let them cash them in as payment towards their loans or as an add-on 12 month CD? It's something worth considering and a differentiator.
My goal with all of this is to inspire you to think of ways to engage your members as a part of your business decisions and your business goals. And while you're at it, don't forget to think of yourself as a part of the credit union, a part of the membership, and a part of the cooperative movement. Because you are a part of it, not apart from it.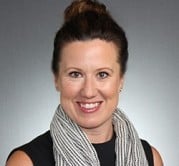 Jen McFadden is the Director of Marketing at CUInsight.com. She crafts CUInsight's marketing strategy and oversees brand identity, campaigns, and other marketing efforts. She began her credit union ...
Web: https://www.cuinsight.com
Details