A Successful Credit Union Facebook Story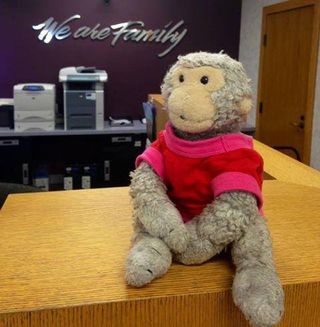 by Mark Arnold
You can't measure social media. Facebook is a waste of time. No one wants to hear from their credit union or bank on Facebook.
Ever heard any of those objections within your financial institution? Social media experts preach the importance of using these new tools to engage consumers. But how do you really do it?
Linn Area Credit Union (Iowa; $294 million; 24,000 members) used Facebook to accomplish just such engagement.
Their Facebook engagement example didn't actually start on Facebook. It began with a local community event the credit union sponsors (Balloon Glow in Cedar Rapids, Iowa). While Tara Bross, marketing specialist for Linn Area Credit Union, and other Linn Area CU employees were cleaning up after the event, a couple approached the group with a stuffed monkey—an obviously very lost and very loved stuffed monkey.
Rather than just put the monkey in some ambiguous lost and found, Bross took action. But not
just any action—she took to social media. Linn Area Credit Union's tagline is "we are family." Those are not just words to Linn Area Credit Union employees—they live that slogan daily.
"The monkey was so obviously loved," Bross said in a blog post recapping the ordeal. "So obviously going to crash and burn the world of some little child out there!" So what did Bross do? She posted a picture of the monkey who had lost his "bestie" on the Linn Area Facebook page. The message read, "Missing: My Bestie. I was accidently dropped last night while at Balloon Glow. I'm guessing my BFF didn't sleep well last night without me! Don't get me wrong—these people at Linn Area Credit Union are really funny, but I miss my home! Please SHARE and help find this sweet little monkey's best friend!"
continue reading »