Are credit union members happy or not?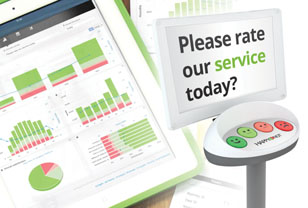 USAlliance FCU's in-branch kiosks provide quick and instant service feedback
by: Karen Bankston
The eye-catching kiosks in the lobbies of USAlliance Federal Credit Union branches offer members a quick and engaging way to offer feedback, and they are taking advantage of the opportunity.
The HappyOrNot monitor displays a single, simple question, such as "Based on today's experience would you recommend us to a friend?" or "Please rate our service today?" Members tap one of four buttons on a scale from smiley to frowning face. Even that limited data has helped underscore the importance of high-quality member service in every interaction and pinpointed service issues at specific times and days.
For example, when member satisfaction ratings at one branch dipped at the same time on the same day two weeks in a row—with one in eight members on average declaring themselves less than fully "smiley-faced"—managers investigated and discovered that at that time, the ATM was being serviced. As a result, members visiting the branch couldn't use the ATM and were routed to a side door to enter and exit.
Sharing daily reports with branch managers, who in turn share them with their staff, has also helped improve already-positive results—97 percent of members pushing the best possible rating—to "near Six-Sigma-esque ratings," says Kevin Randall, CCE, VP/information technology for the $909 million credit union serving 65,000 members in Boston and New York City.
continue reading »