Are we still heading toward 5% mortgages?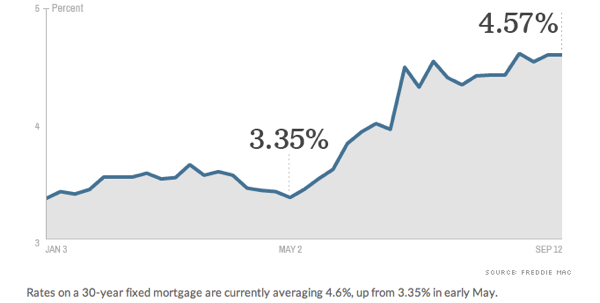 Prospective buyers who have been shying away from the housing market due to rising rates may have reason to start shopping again.
By Les Christie  @CNNMoney
On Wednesday, the Federal Reserve surprised market watchers when it announced that it would not start tapering its purchases of mortgage-backed securities and Treasury bonds.
Mortgage rates have risen significantly amid concerns that the Fed would cut back on its $85 billion a month bond-buying program. Rates on a 30-year fixed mortgage are currently averaging 4.6%, up from 3.35% in early May. That rate increase has meant an extra $140 a month in payments for a homebuyer with a $200,000 30-year loan.
But now that the Fed has said it will continue to purchase the bonds, rates will likely retrace some of those gains, said Keith Gumbinger of mortgage information provider HSH.com.
"Now, we do have some space for rates to fall," he said. "I don't expect a plummet, just a drop of 0.1 percentage points or so over the next week or two."
Should the economy gain more momentum, however, fears that the Fed will taper off its bond purchases will most certainly resurface and rates will move higher again, he said.
continue reading »