Auto loans and Apple Pay critical to credit unions in 2015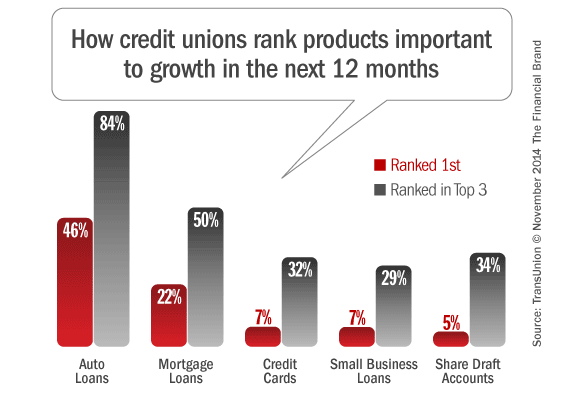 A survey of credit union executives reveals that auto loans will be their top priority in 2015. Apple Pay is also on their radar.
By a two-to-one margin, credit union executives say that auto loans (46%) are their top growth opportunity over the next 12 months. Nearly 84% of those participating in an October 2014 survey from TransUnion ranked auto loans as one of their top three areas for growth. The next highest product: mortgage loans (22%).
TransUnion hypothesizes that credit unions are gravitating towards auto loans because of the continued low delinquency rates and high demand for both new and used cars. It's probably also safe to assume that as the overall lending environment improves, consumers will be more likely to seek credit at more modest levels (e.g., auto loans and credit cards vs. high-value products like home loans and small business loans).
"While auto loan performance in the last few years has been strong across the board, it is clear that credit union executives value these loans going forward over other growth areas such as mortgages, credit cards and home equity lines of credit," says Ezra Becker, VP/Research and Consulting in TransUnion's financial services business unit. "Over the longer term, we anticipate greater focus on mortgage and HELOC growth as home values continue their upswing, but for now the auto loan is king."
continue reading »