Average Cost to Raise a Kid: $241,080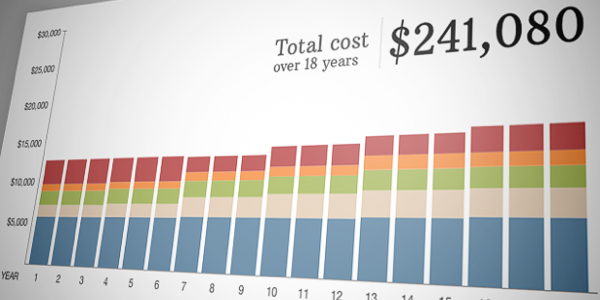 From day care to the monthly grocery bill, the cost of raising a child is climbing at a rate that many families can't keep up with.
By Melanie Hicken  @melhicken
It will cost an estimated $241,080 for a middle-income couple to raise a child born last year for 18 years, according to a U.S. Department of Agriculture report released Wednesday. That's up almost 3% from 2011 and doesn't even include the cost of college.
At the same time, wages aren't keeping up. The country's median annual household income has fallenby more than $4,000 since 2000, after adjusting for inflation, and many of the jobs lost during the recent recession have been replaced with lower-wage positions.
The USDA's latest estimates include expenses for housing, food, transportation, clothing, health care, education and child care, as well as miscellaneous expenses, such as toys and computers.
Related: How much will it cost to raise your child? Find out
The biggest price tag is for families in the urban Northeast earning $105,360 or more. They will spend $446,100, much more than the national average, according to the report.Meanwhile, families earning less than $61,590 a year in rural areas will spend the least, at $143,160.
continue reading »