Be your members' money expert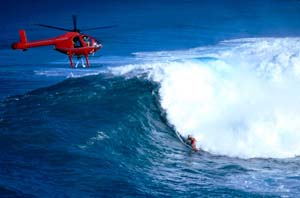 Transform from a transactional primary financial institution to a bonafide primary financial resource.
By Mike Lawson
There's a giant ocean wave that breaks on the north side of Maui each fall and winter called Pe'ahi (pay-AH-hee). It's a wave so big that it would crush most credit union headquarters, leaving little left in its wake. It has been nicknamed "Jaws" by the locals because of its immense power and ferocity.
But we're not here to discuss how Mother Nature can destroy man-made structures with one swipe of her hand; we're here to discuss how this massive wall of saltwater can transform your credit union – metaphorically, of course. You see, everything has a "give and take": relationships, exercise, business, food, weather and, yes, waves.
Amazingly, surfers ride these 60-foot behemoths, skirting death each time they even try to catch one – let alone surf it.
What the wave, Pe'ahi in this case, "gives" is that life-changing experience for the surfer: a) hopefully surviving, b) hopefully riding one (successfully), and c) ultimately getting to tell all his/her buddies about it and boosting their big wave-riding cred. These are "takes" for the surfer. Conversely, the surfers' "gives" to the wave are respect, reputation, and a boatload of gratitude. Lastly, we pray that Pe'ahi doesn't experience any "takes" – if you know what I mean.
Ok, let's get out of the water and into your credit union.
Credit unions already give a lot to members: low rates, free checking, nationwide ATM access through shared branching, mobile and online access to accounts and friendly staff. But what about financial guidance? Are you a resource for them? Are you their go-to money expert?
Most members won't need more than transactions. But do you want to stick to that superficial relationship? In this day of social media, is that all you want to be?
Social media can be great for sharing interest rate specials, quick product promos or your CU's funny TV commercial. I'm a big fan of social media and its real-time communication capabilities. But can you use the unique two-way conversation opportunities that social media sites provide to give members more empowering information? For every promotional post you make, try making two educational posts. Try how-to articles on such topics as retirement savings, investing, budget tips, etc.
But don't just save the how-tos for social media. Think of ways to incorporate your financial resources into all touch points. What is your new member account opening process? You get them set up with a checking and savings account, right? Provide a list of ATM and branch locations, certainly. Ask about refinancing loans (I hope!). When you're handing them that pile of brochures, why not also include an article about building wealth?
When a member applies for an auto loan (take), you could give articles about car shopping and a list of reputable mechanics.
When a member applies for a mortgage loan (take), you could give articles about the home buying process, what appraisals are all about, information about local schools and neighborhoods, plus lists of Realtors and movers.
continue reading »