Berger calls Shelby bill 'solid step forward'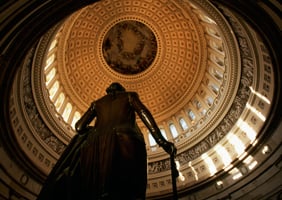 NAFCU President and CEO Dan Berger touted the benefits of the NAFCU-backed draft bill being marked up by the Senate Banking Committee today and called the legislation "a solid step forward to provide credit unions regulatory relief."
The committee will mark up the "Financial Regulatory Improvement Act," a draft bill released last week by Chairman Richard Shelby, R-Ala., at 10 a.m. today. Berger wrote Shelby and Ranking Member Sherrod Brown, D-Ohio, to express NAFCU's support for the bill in advance of the mark-up.
"The impact of this growing regulatory burden on credit unions is evident in the declining number of credit unions, dropping by 23% (more than 1,800 institutions since 2007)," Berger wrote. "A main reason for the decline is the growing cost and complexity of complying with the ever-increasing onslaught of regulations. Since the second quarter of 2010, we have lost 1,200 federally insured credit unions, 96% of which were smaller institutions below $100 million in assets."
The package, includes several NAFCU-backed provisions for credit union relief and transparency at NCUA. The bill would require public NCUA budget hearings and require the agency to study the impact of its risk-based capital proposal on mortgage servicing assets.
continue reading »