Berger Updates Members On Debit-Fee Case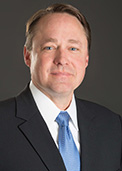 NAFCU is contacting NCUA, the Federal Reserve, card networks and policy makers to assess and, if possible, mitigate the impact on credit unions of last week's federal court ruling vacating the Fed's debit interchange regulation, NAFCU President and CEO B. Dan Berger told members Tuesday.
NAFCU was part of a group of trade associations that filed a friend-of-the-court brief on behalf of the Fed in the early stages of this court case. It has monitored this case at every turn and continues to be involved in financial industry efforts to discern and, if possible, contain its impact.
"Since the decision came down from the U.S. District Court overturning the rule, NAFCU has been participating in regular calls with financial services trade associations to give NAFCU's perspective and discuss options for how we can effectively advocate for the Federal Reserve to appeal the decision," Berger assured members.
He said NAFCU is working to ensure its members' interests in numerous ways:
It is working to ensure that the Federal Reserve understands the huge impact the ruling will have on credit unions.
It is meeting with card networks to see what changes they will be making in the future.
It is educating policy makers on the impact the ruling could have on NAFCU members.
The next step in this case will be the Aug. 14 hearing scheduled by the judge, Berger said. That hearing is expected to produce a briefing schedule to discuss the duration of the stay on last week's decision while the Fed works to replace portions of the rule that were deemed invalid.
continue reading »