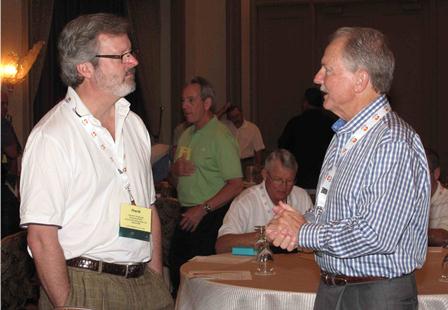 by Lisa Hochgraf
Make sure all the expertise at the table gets on the table
John Oesch was once chair of a non-profit board that needed to hire a new executive director. Three of his fellow directors came up to him and said, "I know just the person we should hire."
Senior lecturer and faculty at large at the University of Toronto's Rotman School of Business, as well as lead faculty for the CUES Governance Leadership Institute, Oesch replied, "Don't tell me! And try not to tell yourself."
Relating this story Tuesday at CUES Symposium: A CEO/Chairman Exchange, Oesch explained that he didn't want the members of the board to take positions on who to hire. Rather, he wanted them to talk about criteria for what the organization needed in a new executive director.
"We had a six-week-long, healthy fight about criteria," Oesch said. "It took many phone calls and a few meetings to figure out, 'What did we really need as an organization?'"
Oesch said a lot of boards take positions too early in the decision-making process and this inhibits them from taking advantage of the expertise of everyone at the table.
For example, if the board chair says what he or she thinks should be done, it may be intimidating for another director to say he or she disagrees. Similarly, if the chair asks for each board member to say what they think, and the first six to speak take a similar position, it may be difficult for the seventh member to call attention to a hitch he sees.
"We need to avoid contests of position to make best use of the wisdom at the board table," Oesch said. "We need wisdom on the table," drawn out of people who have it.
continue reading »