Big Bank's Legal Tab: $66 Billion And Growing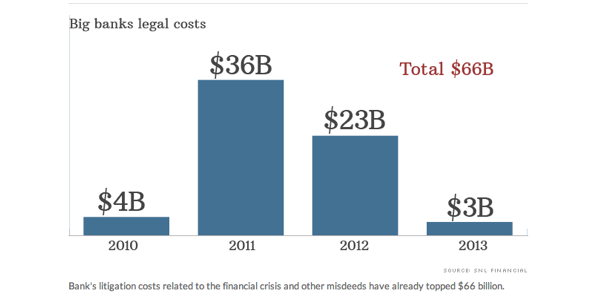 Big banks have spent an estimated $66 billion on litigation in the past three and a half years, according to SNL Financial. And those numbers are expected to keep swelling, as federal prosecutors and the SEC continue to look at wrongdoings tied to the 2008 financial meltdown.
By Maureen Farrell  @maureenmfarrell
The government needs to move swiftly to prosecute crimes leading up to the credit crisis and extract more penalties from big banks. That's because the statute of limitations for prosecuting many of these crimes is five years.
And with the five-year anniversary of the demise of Lehman Brothers just a month away, there is likely to be a lot more discussion about what the government has done to compensate victims of the financial crisis.
Related: Feds say JPMorgan broke securities laws in mortgage deals
The Obama administration has been continually criticized for not doing enough to prosecute the large financial institutions. While $66 billion in litigation costs is a staggering number, it's a small portion of the $207 billion that the six largest financial institutions — Bank of America, Citigroup (C, Fortune 500),Goldman Sachs (GS, Fortune 500), JPMorgan Chase (JPM, Fortune 500), Morgan Stanley and Wells Fargo (WFC, Fortune 500) — have earned in profits over the past three and a half years, according to FactSet.
continue reading »