Caucus is over, but the work is not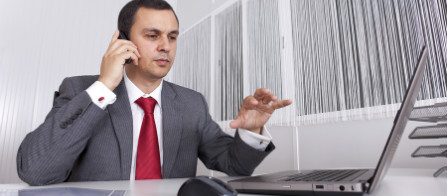 Every year, NAFCU starts its busy fall season with an important event that brings credit union leaders to Washington to help move issues: our three-day long Congressional Caucus, where attendees hear from lawmakers and meet with them in their Capitol Hill offices to advocate the top priorities and concerns of the credit union industry. The Caucus is also an opportunity for us to hear, face-to-face, what's going on with our members at home and for members to ask pressing questions – both of us and their congressional representatives. This year was no exception, and I am happy to say the 2013 Caucus was a rousing success.
It's helpful to me to start the season off this way because it reminds me of what we're about: We are our members' voice in Washington, and their ears as well. We tirelessly promote credit union interests in meetings with legislators and regulators, but we also make sure our members know the latest news that has an impact on them.
NAFCU's calendar year is dotted with many events like this – gatherings to meet and talk about critical issues and the latest industry news – but I have to say that for its sheer numbers, the Annual Conference and Solutions Expo beats all.
Held in July, NAFCU's Annual Conference and Solutions Expo has enough going on that we're preparing even now. And for planning purposes, it's never too early for credit unions to start thinking about it as well.
Why is it so important to get ready now? Because the issues you care about aren't waiting. Congress is back in session, and it looks like a busy time is just ahead. CNN commentator Paul Begala, our Caucus keynote speaker, talked about how current international events may affect legislators' ability to come together on domestic problems, including the debt ceiling – which he referred to as the "armageddon" issue.
And the debt ceiling is just the beginning. Other important issues include:
The effort to reform the tax code. Several speakers at Caucus referenced this important priority, and talked about how vital the exemption is to the credit union industry. Sen. Tim Scott, R-S.C. said: "Credit unions have enjoyed the benefit of a tax exemption because you do what others don't do. You go into communities and make relationship with people that others don't make." Rep. Gerry Connolly, D-Va., said that while no one in Congress is "gunning" for the credit union tax exemption, credit unions must remain vigilant.
Housing finance reform. We need to make sure our representatives remember that credit unions and their members depend on a government-guarantee, continued access to the secondary mortgage market and fair pricing that is not based on a financial institution's size. Sen. Mark Warner, D-Va., said at Caucus that it is essential for credit unions and community banks to have "equal access" to the secondary market – "so you are not squeezed out by the biggest banks." Also at Caucus, Fannie Mae President and CEO Tim Mayopoulos said credit unions are "crucial to the success of housing finance in the future" and acknowledged that credit union loans are "consistently high quality."
The fight against overregulation. This growing problem has been burdening credit unions since the Dodd-Frank Act, despite the fact that they had no part in causing the financial crisis.

Like you, we will not get a break from now until July – and we'll be working on what matters to credit unions every day in between.
That's why we're getting ready – even now – to meet you in Las Vegas.
The Annual Conference is NAFCU's best opportunity to get our members caught up on everything we're doing and everything they need to know – and for us to hear in person about the full scope of important issues they're facing as well. It's vitally important for CEOs and senior staff to know the latest about CFPB lending rules and compliance requirements – a big focus for the conference, particularly in an environment of constant regulatory change. It's also great for board members: Along with the education you'll get on all things credit union-related going on in the regulatory and legislative worlds, Annual Conference is a great opportunity for networking and building relationships.
And for all attendees: It's Vegas!  You don't need me to tell you why Las Vegas is a hot vacation spot, but I'll give you a few reasons anyway: the best shows, best shopping, and best restaurants around. A rich history of hosting the top entertainers of every generation, from Frank Sinatra to Celine Dion. And Vegas isn't just one of the most popular destinations in the world – it offers experiences from other destinations around the world. For instance, at our conference location, The Venetian Resort Hotel Casino, you can take a gondola ride and be serenaded by your gondolier in Italian.
At all of our conferences, we try to mix business with a little fun – but it looks like Vegas will be the one to beat. As you're making your plans to stay on top of developments in housing finance reform, regulations and more, consider a little multitasking: Get your questions answered and your opinions heard while enjoying the sights and sounds of Las Vegas.
B. Dan Berger became NAFCU president and CEO on Aug. 1, 2013. He joined NAFCU in January 2006 as senior vice president of government affairs overseeing five divisions including legislative ...
Web: www.nafcu.org
Details