CFPB annual report highlights student loan payment tips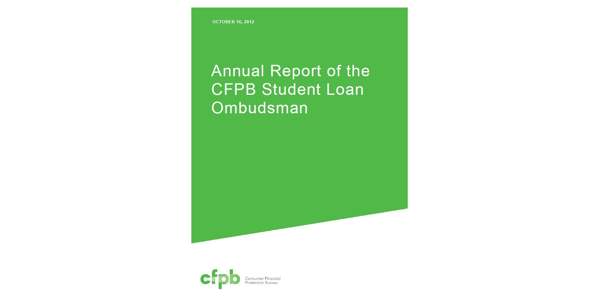 The CFPB, as mandated by the Dodd-Frank Act, released its second annual report on student loan complaints – which includes tips on how to pay off loans faster – and is hosting a briefing call tomorrow on the subject.
CFPB Assistant Director and Student Loan Ombudsman Rohit Chopra will host the call at 2 p.m. Eastern on Oct. 18, to discuss both the report and the bureau's consumer advisory for student loan borrowers.
The report includes data on the complaints the bureau received about student loans: it received 3,800 private student loan complaints in total, and 87 percent of the complaints were directed at eight companies, none of which are credit unions.
"This report tells us what we already know," said NAFCU Regulatory Affairs Counsel PJ Hoffman. "Credit unions are the gold standard in the private student lending industry. They have a different relationship with their members and that shows. Credit unions take care of their members by putting them in loans they can afford. If those members run into trouble, credit unions work with them to find a solution that works for both the credit union and the member."
The report focuses on private student lenders' and loan servicers' payment processing policies, and warns that allowing the servicers to decide what to do with extra money – payments in excess of the amount due at any given time – can be dangerous. The advisory explains that servicers must listen to specific instructions from borrowers looking to pay down their debt more quickly.
continue reading »