CFPB pushes financial institutions to disclose arrangements with colleges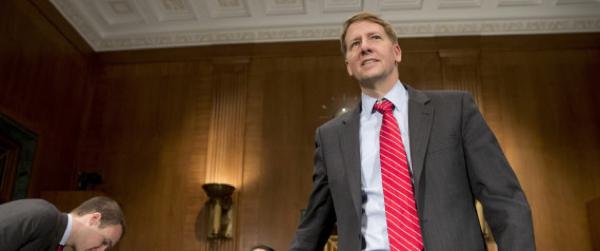 The Consumer Financial Protection Bureau urged a number of financial institutions on Tuesday to disclose how much money they are paying colleges and universities to directly market their products and services to students.
"Students and their families should know if their school, whether well-intentioned or not, is being compensated to encourage students to use a specific account or card product," CFPB Director Richard Cordray said in a statement. "When financial institutions secretly give kickbacks to schools, they are engaging in risky practices."
Many schools have agreements with financial institutions to push their deposit accounts, prepaid cards and debit cards on students, in some cases linking an account with the student's school-issued ID. Colleges, in turn, earn money either in a flat fee or based upon how many students open accounts. Currently, financial institutions are only required to disclose credit card agreements with schools, meaning that many students do not fully understand these and other financial arrangements, according to the CFPB. Although 69 percent of debit card deals are available to the public, the CFPB said sometimes an open records request must be filed in order to get access.
Meghan Johnson, a sophomore at Iowa State University, complained in an email that there is only one institution to choose from in opening an account conveniently linked to a student ID: U.S. Bank.
"I think that we need more options offered to us as college students at Iowa State," Johnson said. "When there is only one checking/debit option, then we are captive to whatever fees are pushed on to us. If there were more banking options available, then we can shop around and find the account with the fees and other features we want."
ISU told The Huffington Post they earned $250,000 this year from U.S. Bank to turn the student IDs into debit cards, and students are not required to open an account with the bank. ISU used the compensation to cover the cost of university ID cards, a spokesman said.
The University of Minnesota collects $1 million annually through an arrangement with TCF Bank. The University of Illinois at Urbana-Champaign told HuffPost it nabs $400,000 annually from TCF Bank. Both schools said funds from TCF are reinvested in scholarships.
continue reading »