CPI unchanged in November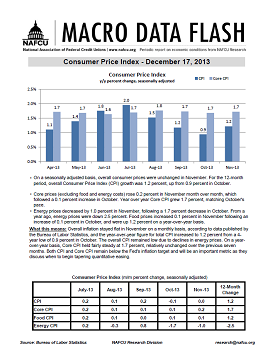 Consumer prices were unchanged in November as energy price declines offset other increases, said NAFCU Research Assistant Doug Christman.
For the 12-month period, overall consumer price index growth was 1.2 percent, up from 0.9 percent in October. On a year-over-year basis, core CPI held fairly steady at 1.7 percent, relatively unchanged over the previous seven months.
"Both CPI and core CPI remain below the Fed's inflation target and will be an important metric as they discuss when to begin tapering quantitative easing," Christman said in a NAFCU Macro Data Flash report.
Core prices – excluding food and energy costs – rose 0.2 percent in November month over month, which followed a 0.1 percent increase in October.
Energy prices decreased 1 percent in November after a 1.7 percent decrease in October. From a year ago, energy prices were down 2.5 percent. Food prices increased 0.1 percent in November following an increase of 0.1 percent in October; and were up 1.2 percent on a year-over-year basis.
continue reading »