Credit Union Loans and Savings Both Up in May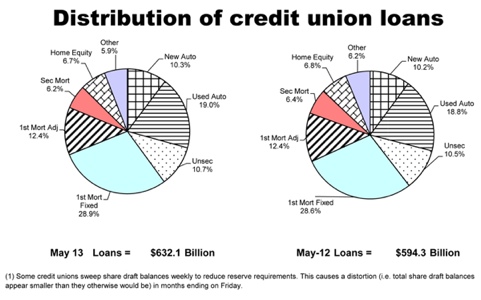 Savings growth outpaced loan growth at credit unions in May, leading the credit union movement's aggregate loan-to-savings ratio to fall to 67.7% from 68% in April, according to the Credit Union National Association's Monthly Credit Union Estimates.
Credit union loans grew by 0.5% in May–a 6% annualized rate.  Savings growth outpaced loan growth by a wide margin–though the disparity arose because May ended on a pay day and automatic payroll deposits caused share draft balances to increase dramatically. Savings balances increased by 9% in the month.
"The combination of a slowly improving economy, significant pent-up demand, and seasonally strong borrowing should result in relatively strong loan growth in the coming months," said Mike Schenk, vice president of CUNA's economics and statistics department. "All else equal this should have a positive influence on credit union bottom-line results as short-term, liquid investments yielding close to zero are replaced with higher-yielding assets."
May's asset quality improved marginally, with dollar delinquencies ending at 1.14%, which compares to 1.17% at the end of April.  The movement's aggregate delinquency rate has remained in the 1.20% to 1.14% range for the past year, though it is substantially improved compared to the year-end 2011 reading of 1.6% and the 1.85% cyclical high recorded in January  2010.  The movement's long-run average aggregate delinquency rate is about 1%.
continue reading »