Credit unions back up in service satisfaction ranking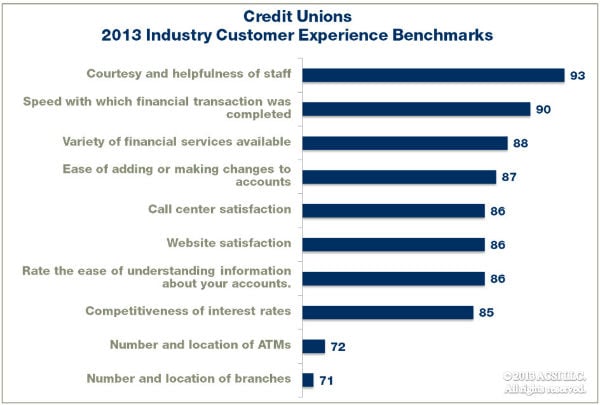 by. Michelle A. Samaad
After experiencing a slight dip in service levels in 2012 brought on in part by the surge in new members from Bank Transfer Day the year before, credit unions are back on top in a number of areas.
(Click on image at left to expand.)
According to the American Customer Satisfaction Index released Tuesday, credit unions improved their ACSI score from 82 in 2012 to 85 this year, well ahead of their larger bank competitors.
The ACSI said it used data from interviews with roughly 70,000 customers annually as input to an econometric model for analyzing customer satisfaction with more than 230 companies in 43 industries and 10 economic sectors, as well as more than 100 services, programs and websites of federal agencies.
Credit unions received strong marks for their member service at branches, the ACSI noted.  In addition to having very courteous and helpful staff, members said transactions were quicker and more efficient compared to banks.
Almost three-quarters of all credit unions offer free checking compared with about one-third of banks and they typically offer lower interest rates on loans and revolving credit, according to the ACSI. These were major reasons that customer satisfaction with credit unions climbed 3.7% to an ACSI benchmark of 85, a good deal higher than for banks, large (73) and small (83).
continue reading »