Credit unions are the future: What that means for leadership in 2017
In 2016 I worked with CU leaders across the country. As an outsider, I offer an unbiased view of the CU industry. As a contractor serving the CU industry, I have committed myself to understanding your world and the challenges you face as CU leaders now and in the future.
If you'll indulge me, I'd like to offer my observations on the CU world over the past year.
Year End reviews can be dreadful. That's because they're usually nothing more than a sweet postcard reminiscing over the high points. Instead, I'll share some of my observations and ask a few challenge questions to help you think about your leadership focus in the New Year.
#1 Credit Unions are the future.
Sometimes it's hard to see the forest for the trees. The volatile political and regulatory environment and the fast pace of societal change made 2016 a very challenging year––
It was a challenging year for your members too––and you provided the light at the end of the tunnel.
In the face of an increasingly complex financial environment, and with growing pressure to innovate and embrace technology, can you continue to focus on providing meaningful alternatives rather than trying to beat the banks at their game?
#2 You remain committed to the person you serve.
Across the country, CU leaders told me about increased efforts to cultivate and improve human interaction––both with members and internally. You are providing the alternative to commercial banking that members want––and providing the work environment your employees cherish.
How can you preserve this focus on the person you serve, members and employees, even as you respond to their needs for more integrated technology and faster service?
#3 Communication is a growing challenge.
In every one of our workshops over the past year, CU leaders and staff told me that communication, internally and with members, is one of the greatest challenges you face.
Modes of communication are changing rapidly and it's difficult to keep up. You must communicate to an increasingly diverse population––there are ethnic, generational and gender issues that make communication challenging.
It's not just a matter of learning how to write a clear email––that's a simple enough problem to address.
Are you willing to provide training in communication and human interaction that allows your leaders and staff to respond flexibly and dynamically to changing constituencies and modes of communication?
#4 There is still a "leadership gap."
It's not your fault––but you've got to deal with it.
Your leadership gap is not the fault of poor leadership. You have great leaders who stick around for a long time! This means fewer openings for aspiring leaders to move up, and many of them have left, reluctantly, to pursue other opportunities.
However, across the country you tell me that many of these long-term leaders are now retiring. You're asking relatively young and green aspiring leaders to step up––and fast––and many of them are not ready.
Our workshops reveal that there is a growing need for leadership development across the CU community. More training is needed––not in technical "management" and functional areas, but in the soft skills––interpersonal relations, conflict resolution,communication and motivational skills.
One of the most acute areas needing improvement is in the ability to deal with uncertainty. You need to help aspiring leaders grow and develop not only as competent managers skilled in their technical domain, but as inspirational, confident and courageous people who can attract willing followers dedicated to the success of your organization.
The solution is simple––but it requires commitment.
Are you willing to commit to the installation and maintenance of a formal mentoring and training process to continually identify and support the development of aspiring leaders? What resources are you willing to commit in the New Year to cultivate the soft skills essential to effective leadership? What tasks and projects can you delegate to aspiring and emerging leaders to help them gain experience and keep them engaged?
#5 Your mindset and attitude is strong.
Everything I know about leadership can be summed up in two simple sentences:
"Leadership is sharing. A leader shares."
I enjoy working with CU people for a number of reasons, but most of all because you understand and live by these principles. You are committed to service. You are dedicated to positive values and principles that are sadly endangered in today's world.
What will you do in the coming year to assure that tomorrow's leaders preserve this mindset?
How will you help them avoid the pitfalls that have plagued so many industries today––greed, obsession with short-term gain, lack of vision and rejection of community responsibility?
I'll hold to my first observation. Credit Unions are the future.
The key to realizing this potential is to develop, cultivate and nourish leaders who embrace the mission of the Credit Union––to provide personal service to your members to help them manage their finances, build authentic wealth and create the lives they desire for themselves, and their families.
This final challenge is not limited to this year. It's an ongoing process.
I'll leave you with this final thought. This is one of the greatest lessons I learned through my life in martial arts and one of the most important lessons I share with CU leaders––
"Perfection is not a destination. It's a never-ending challenge."
What will you do in 2017 to embrace this challenge?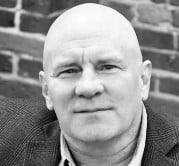 Jim Bouchard is an internationally recognized speaker, Leadership Activist, and founder of The SENSEI LEADER Movement™. He's the author of 8 leadership books, and hosts Walking The Walk, a ...
Web: www.armstrongspeakers.com
Details