Credit unions like being behind the wheel in loan market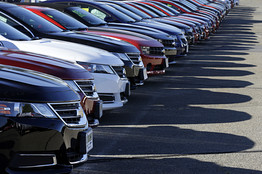 by: Peter Rudegeair
Credit unions are shifting into a higher gear in the auto finance market.
Balances of new-car loans at credit unions rose at a 24.2% annualized rate in March, after seasonal adjustments, the fastest recorded by credit union service provider CUNA Mutual Group.
That means nearly $4 for every $10 credit unions had lent out as of March had gone towards a new car loan. Specifically, there were $91.6 billion in new-auto loans outstanding at credit unions in March, up from $74.7 billion a year earlier.
Used-car lending at credit unions is also revving up. Seasonally-adjusted outstanding balances of used-car loans grew at a 14.9% annualized rate in March, the fastest pace since November 1999.
Credit unions are willing to lend in part because they're looking to boost relatively low net interest margins. Credit union customers, also called members, are also willing to borrow because of pent up demand for cars and appliances and an improving financial condition, said Steven Rick, CUNA Mutual Group's chief economist, in a Monday report.
continue reading »