Credit union membership up and loans grow in 1Q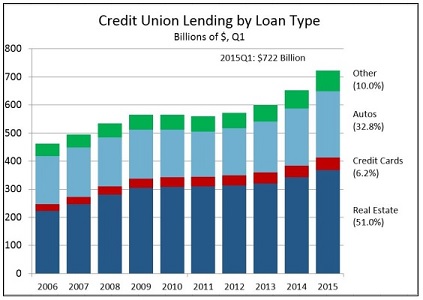 Credit unions continued to grow loans and membership in the first quarter of the year, with total loans outstanding rising 10.6 percent and membership up by more than 2.8 million year over year, according to first-quarter call report data released by NCUA on Tuesday.
Lending at federally insured credit unions grew 1.3 percent in the first quarter and totaled $721.9 billion as of March 31, the call report data show. Membership totaled 99.97 million as of March 31.
The data also showed loan delinquencies at their lowest first-quarter levels in 8 years – falling to 69 basis points from 81 basis points a year before.
"The first-quarter data shows credit unions continue to excel at providing outstanding value and exemplary service to their members," said NAFCU President and CEO Dan Berger. "Additionally, credit unions continue to demonstrate their commitment to helping member small businesses develop and grow jobs."
continue reading »