CUAid for credit union disaster relief: What it is & why you should care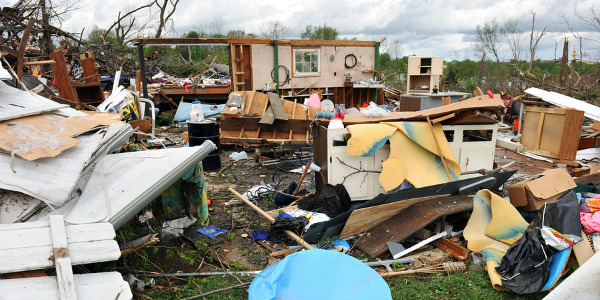 "When the check from the Foundation arrived, some of our members broke down crying in our lobby. All of a sudden, 'People Helping People' was not just a slogan."
Those are powerful words and come from a thank you letter received after the National Credit Union Foundation (NCUF), through CUAid, disbursed funds to credit union members and staff affected by Hurricane Sandy.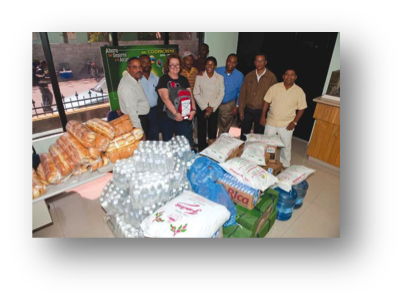 We often receive similar, heartfelt notes after a CUAid campaign. And with good reason. CUAid (cuaid.coop) is the only program of its kind that enables credit union employees, volunteers, and members, as well as credit unions and credit union organizations across the U.S., to contribute directly to support other credit union people. How many industries do you know that fundraise specifically to help each other in times of disaster?
How CUAid works
CUAid is a mechanism to provide relief exclusively to credit union people in recovering from major disasters. Any time a large-scale disaster occurs, NCUF immediately contacts the league(s) in the disaster area. We collaborate with the league(s) to determine the approximate number of credit union volunteers, employees and members affected by the disaster to see if it warrants a national CUAid campaign activation and fundraising effort. If so, we work together to get the word out and raise donations through cuaid.coop.
NCUF will then work with the state credit unions league(s) or foundation(s) in the affected area to disburse funds through a grant application process. Depending upon the location, size and complexity of the disaster, NCUF either grants the funds directly to those affected or to the state credit union leagues/foundations to then disburse to credit union people in need. In most cases, NCUF raises the funds while the leagues/foundations gather grant applications. Then after the specific need for assistance is determined by the approved grant applications, NCUF or the state CU foundation distributes the funds collected. Typically, we like to ensure that everyone who needs help gets help from the funds available.
In the event that all donations are not used for a particular campaign, NCUF transfers any and all unused funds to its "General Disaster Relief fund" for future disaster relief efforts.
What's the money used for?
As you would guess, the devastation caused by natural and man-made disasters often creates immediate, emergency needs as well as long-term, ongoing needs. In response, NCUF's disaster relief funds can be used for a broad range of disaster-related needs as identified by the credit union leagues in the affected areas and approved by NCUF. Everyone who supports CUAid is helping affected credit union people directly with critical needs, longer-term recovery needs, operational needs, and assisting credit union members. Again, this varies by the size and scale of the disaster, but in most cases, NCUF ends up helping with longer-term recovery and operational needs as organizations such as the Red Cross and United Way steps in with critical and immediate needs.
A little background
NCUF has been involved with credit union disaster relief efforts for decades. In fact, our first big relief effort was in response to the Oklahoma City bombing in 1995, for which $1.4 million was raised to help credit union victims' families.
But since August 29,2005 – when Hurricane Katrina struck America's Gulf Coast – NCUF has become the credit union movement's focal point for disaster relief.  NCUF raised the largest amount ever for credit union disaster relief – $3.4 million – which was ultimately disbursed to assist credit union survivors of Hurricanes Katrina and Rita.
Afterwards in 2006, CUAid was developed by NCUF in cooperation with state credit union foundations, state credit union leagues, and the CUNA's Disaster Preparedness Committee. Since then, thanks to CUAid, over $2.4 million in donations have been collected more efficiently and money is distributed much faster to credit unions, their employees and their members in disaster areas.
What you can do
Your credit union organization can help the credit union community prepare for the next disaster in the following ways:
Raise awareness of CUAid with a message to your employees via email, on your intranet, or in a staff meeting.
Download a cuaid.coop icon or web button from cuaid.coop and place it with a link to cuaid.coop on your internet and intranet home pages.
Encourage your members and employees to donate through cuaid.coop, knowing their tax-deductible donations will help fellow members and employees recover from future disasters.
In the event of a disaster and a CUAid campaign is activated (note: as of June 1st, hurricane season is upon us), please spread the word to staff and members online and in your branches of the opportunity to help others. The more money is raised, the more credit union people can be helped. Ultimately, that's what CUAid is all about: living the 'People Helping People' philosophy.
Christopher Morris is currently an engagement consultant at the Credit Union National Association (CUNA), providing specialized attention to broad and diverse stakeholders throughout the Midwest Region. Previously, Christopher was a ...
Web: www.cuna.org
Details