CUAid Update: Donations Still Needed For Sandy Relief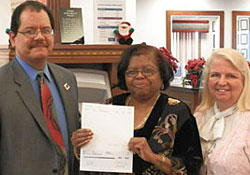 The National Credit Union Foundation (NCUF) is seeking additional support from the credit union community to continue to assist credit union people affected by Hurricane Sandy.
Since Oct. 31, NCUF has raised and distributed more than $260,000 to credit union employees, volunteers and members, but there still are applications for assistance outstanding.
"The response from the credit union system thus far has been absolutely outstanding," said Tom Candell, NCUF deputy executive director/chief operations officer/chief financial officer. "It's not typical for NCUF to continue to fundraise this long after disaster strikes, but it's also rare for us to have so many credit union people that can still benefit from assistance. We'd like to help as many people as possible get back on their feet, so any and all additional support is appreciated."
To date, $121,000 in CUAid funds has been distributed in aid to 94 credit union employees, volunteers and members in New York. Another $141,000 has been disbursed to 161 credit union people in New Jersey.
The New Jersey Credit Union League (NJCUL) has begun to deliver CUAid grant checks to credit union credit unions across the state.