CUNA Tells Lawmakers Credit Unions Merit Full QM Exemption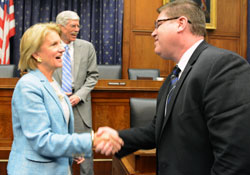 Credit Union National Association witness Jerry Reed testified yesterday that credit unions worry that the Consumer Financial Protection Bureau's Qualified Mortgage (QM) rule will make it all but impossible for credit unions to write non-QM loans.
Reed, who is chief lending officer at Alaska USA FCU, said that the QM standard "designed to be an instrument of consumer protection, may serve as an instrument of prudential regulation, effectively setting a bureaucratic standard for loan quality."
Reed was representing credit unions at a House Financial Services subcommittee on financial institutions and consumer credit hearing on "Examining How the Dodd-Frank Act Hampers Home Ownership."
Reed told lawmakers that credit unions commend the CFPB for listening to their concerns and for incorporating many of their concerns into amendments to the mortgage rules. However, he underscored that credit unions continue to have serious apprehensions about how the QM rule will be implemented and believe that it could have the unintended effect of reducing credit union members' access to credit.
continue reading »