CUNA Urges Action During 'DontTaxMyCU Tuesday'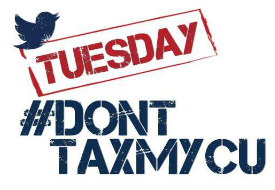 Online day of advocacy promotes CUs and 'Don't Tax My Credit Union.'
CUNA and the state leagues want credit unions, members, and others to spread the "Don't Tax My Credit Union" message Tuesday, July 23, via social media.
The one-day campaign, "DontTaxMyCUTuesday," comes shortly before the July 26 deadline for senators to submit their tax reform proposals to Senate Finance Committee leaders, CUNA's News Now reports. Committee leaders will then create a comprehensive proposal for a new U.S. tax code.
CUNA and the leagues would like credit unions and their supporters to tweet "#DontTaxMyCU" to their representatives in the House and Senate.
"Tuesday is a terrific opportunity to get everyone to send one tweet or one Facebook post to their senators and House members, reminding them that we are paying attention to their actions," says Trey Hawkins, CUNA's vice president of political affairs. "We have had a constant stream of support for the Don't Tax My Credit Union campaign since we launched—and this is the next step in taking that support to the next level of activism."
The initiative will use the credit union community's growing presence on social media to enforce a unified message to Capitol Hill that a tax on credit union would be a tax on their 96 million member-owners.
"Even if you have used social media efforts in the past to support the 'Don't Tax My CU' campaign," Hawkins adds, "please do it again on Tuesday to magnify the impact."
The effort, he explains, could be as simple as sending "Please #DontTaxMyCU" to your representatives' Twitter handles and including the hash tag, "#DontTaxTuesday."
Click here to find legislators' Twitter handles.
continue reading »