CUNA urges credit union tax exemption be continued in Treasury meeting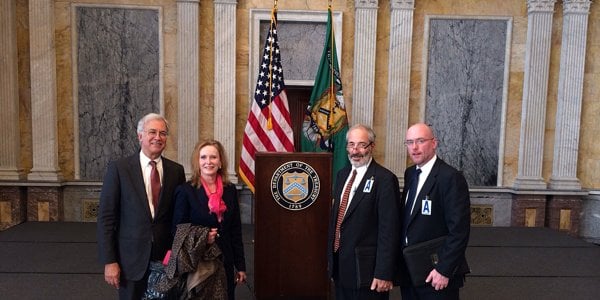 Credit Union National Association President/CEO Bill Cheney had yet another opportunity to advocate for the continuation of the credit union tax exemption when he and senior CUNA staff met with U.S. Treasury Department Assistant Secretary for Tax Policy Mark Mazur and other agency staff this week.
"As key members of Congress continue to consider tax reform, I felt it was essential that we meet again with tax policy advisors at Treasury to ensure they are continually reminded that taxing credit unions would be bad public policy that would hurt consumers and small business, as well as credit unions. We had the opportunity to discuss this issue and present our views thoroughly; it was a very productive session," Cheney said.
General Counsel Eric Richard, Deputy General Counsel Mary Dunn, Senior Vice President for Legislative Affairs Ryan Donovan and Chief Economist Bill Hampel also attended the Treasury meeting.
Cheney and CUNA staff stressed the significance of the tax exemption to the credit union system but they also emphasized the benefits of the tax exemption to the consumers, small businesses and communities that credit unions serve. Such benefits include lower fees, lower rates on loans and a better return on shares and deposits than other financial institutions often provide, they said. The group discussed other benefits that credit unions offer, including loans and other services to low-income members.
continue reading »