CUNA's MBL Rally Draws a Packed House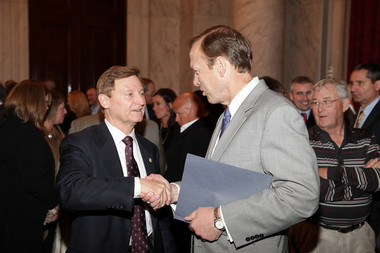 Approximately 500 credit union executives, business owners and members of Congress packed the Kennedy Caucus Room at the Senate Russell Office Building on Tuesday night to rally support for S. 2231, which would increase the member business lending cap to 27.5% of assets.
The reception kicked off CUNA's Hike the Hill event in support of the bill that continued through Wednesday.
Sen. Mark Udall (D-Colo.), primary sponsor of the bill, was cheered as his spoke in favor of the legislation and decried heavy banker lobbying on Capitol Hill in opposition.
Banker arguments opposing the bill are "flat-out wrong," he said and added the MBL cap is a drain on the economy because "we know small businesses aren't able to generate the loans they need from the banking sector."
Other members of Congress who took to the podium included Rep. Ed Royce (R-Calif.), who is the primary co-sponsor of H.R. 1418, the House companion bill for member business lending, as well as Rep. Suzanne Bonamici (D-Ore.), Rep. John Larson (D-Conn.), Rep. Gerald Connolly (D-Va.), Rep. Brad Sherman (D-Calif.), Rep. Paul Tonko (D-N.Y.) and Rep. Steve Stivers (R-Ohio).