Data-driven campaign yields double-digit growth of credit card portfolio
The credit card portfolio of 1st United Credit Union, an $850 million California-based cooperative, appeared at first glance to be packed with faithful cardholders. After all, the average months on book for matured cardholders was 124.
Of course, looks can be deceiving.
While the portfolio's account longevity may have signaled a degree of loyalty, its revolving balances did not. Within its Visa Platinum program, 1st United offered members attractive credit limits at competitive interest rates compared to competing cards in the industry. Still, the $40 million portfolio had simply stopped earning new cardholders. While other California-based credit unions were achieving year-over-year growth between 8 and 11 percent, 1st United's growth was stagnant.
Senior management understood the cooperative had a window of opportunity to significantly reverse the trend.
With approximately 14,800 credit cardholders, 1st United's credit card program had earned penetration of around 30 percent of total membership. While Visa Platinum information was available on the credit union's website, little else was done to promote it. Outside of offering existing cardholders a traditional skip-a-payment offer during the holidays, there was no proactive marketing.
Tapping the credit union's captive audience of non-cardholding members would provide a huge portfolio growth opportunity. 1st United realized the potential of a large-scale acquisition campaign and partnered with data analytics firm IQR through its relationship with payments processor TMG to help develop a data-driven cross selling campaign.
Data Reveals 6,800 Member Prospects
At the outset of 1st United's cross-selling campaign, just under 93 percent of the Visa Platinum portfolio was composed of matured cardholders (those with accounts greater than 12 months old).
Research shows new cardholders are one of the biggest revenue drivers for a credit card portfolio. This is largely due to higher available credit at the beginning of the relationship. As well, new cardholders generally use their cards more often than matured cardholders, many of whom maintain balances at levels that make payments feasible.
Using sophisticated segmentation and other statistical techniques, the 1st United-IQR team created a blueprint for a highly effective cross-selling campaign targeting 1st United members without credit card accounts.
Because blindly distributing promotions to every member without a credit card was not going to produce a sound return on investment, analysts designed a highly targeted list of prospects. Using data from three sources, the team identified those members predisposed to fully engaging with a credit card product. Those data sources were:
Relationship details from 1st United databases
Credit score information
Performance metrics from the Visa Platinum portfolio
After identifying "most likely" prospects, the team set out to accomplish three additional tasks: excluding risky accounts, defining desired behavior, segmenting existing cardholders to identify positive traits and performing look-alike analysis.
Excluding risking accounts
Parameters defining the "right" cardholders were created. Existing Visa Platinum cardholders not fitting within it were identified and tracked across 18 months. Based on the learnings, exclusion criteria were built to ensure prospective cardholders matching the same profile were not targeted in the campaign.
Defining desired cardholder behavior
The cross-selling model sought distinctive behaviors from an existing set of "good" cardholders. These cardholders had been characterized as "good" based on behavior specific to 1st United's growth goals. From there, IQR matched those traits with members in the non-cardholding population.
Segmenting existing cardholders
The team's behavior segmentation used a sophisticated technique to separate existing cardholders into five different groups based on 12-month performance. Cardholders who maintained some level of engagement over that year's time were considered desirable. Therefore, prospective cardholders with traits matching existing cardholders in these segments were earmarked as ideal targets of the cross-selling campaign.
Performing look-alike analysis
Using what's known as logistic regression technique, analysts identified variables that efficiently separated "good" card accounts from "bad" cards accounts in the population. Credit score, performance in the credit union's deposit accounts and performance in credit bureaus were some of the traits examined.
Ultimately, 6,800 of the 17,000 total non-cardholders were found to be ideal targets for the cross-selling campaign.
The Right Members Also Need the Right Offer
Success of any campaign's performance does not depend solely on targeting the right audience; the promotional offer and the communication must also be right.
IQR's research says credit union members have a different expectation of credit card products than bank customers. This is because, in general:
Credit unions offer credit cards at very low rates
Credit unions charge fewer fees
Credit unions offer lower incentives, such as rewards and credit limits
"We know making data-driven decisions not only helps us improve responses; it helps us better understand our members, the products they want and the revenue potential those products represent," said Steve Stone, 1st United CFO. "Although we had invested in reporting systems, we weren't using them to the highest levels until we engaged in this campaign. Through it, we learned just how simple it could actually be to derive a return on that investment."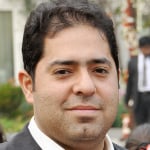 Karan Bhalla is the CEO of CU Rise Analytics and who has almost two decades of financial services and data analytics experience. CU Rise Analytics is a global CUSO helping ...
Web: https://www.cu-rise.com
Details