Data-driven prepaid strategy retains, attracts engaged cardholders
It's not usual for a financial institution to discover most of the revenue generated by its prepaid card portfolio comes from a small number of cardholders. Here again, the 80-20 rule holds true. Yet this rule can bend – even break – with the right data-driven segmentation strategy. By identifying the most engaged cardholders, credit union prepaid issuers can focus their efforts on creating experiences that not only retain these cardholders, but attract others like them to the product.
This begins with identifying the most engaged and profitable accounts. To do this, extract the accounts with a card life greater than 90 days. From among these accounts, pool together the most active cards. What defines active will change from issuer to issuer depending on the goals of your program, such as whether the cardholder has received direct deposits consistently for the last 6 months, or has initiated more than three transactions each week for three months.
After segmenting the most active accounts, score each of them based on three factors: recency, frequency and monetary value. This is known as applying an RFM framework, an analysis that helps card issuers identify the cardholders most likely to positively respond to promotional offers.
Recency
Consumers who have used their cards recently are more likely to do so again as compared to those who have not. Recency is the primary predictor of which cardholders will be most likely to respond positively to an offer.
Frequency
The second most important factor is how frequently cardholders transact with their prepaid cards. A higher frequency means a higher chance cardholders will positively respond to an issuer's offer.
Monetary
The amount of money cardholders spend via the prepaid channel is the third most important factor in the scoring process. Those who have transacted at higher values are more likely to purchase based on the offer compared to those who have spent less. Loads and fees over a 30-day period are also factored into a cardholder's monetary score.
RFM Analysis in Action
In a recent RFM engagement with a prepaid issuer client, IQR determined the issuer's most profitable prepaid cardholders were those between 30 and 40 years old, with lower incomes and less access to affordable credit. The majority of cardholders in this group loaded their prepaid cards through direct deposit payroll and transacted most often at ATMs and family-centric merchants.
Our analysts went a step farther to perform channel-based segmentation. This revealed more than 70 percent of the high-value accounts had come to the financial institution through its website. In addition, they found these prepaid cardholders were first-timers. In other words, they had no prior relationship with the financial institution before applying for the prepaid card.
Based on the recommendation of our analysts, the financial institution focused its marketing and engagement strategies on the segment with payroll and other direct deposits, because they represented the greatest potential for long-term relationships. The next step was creating targeted marketing with messaging and incentives tailored to existing cardholders.
In addition to targeted marketing strategies focused on existing cardholders, the financial institution had to focus on the prepaid promotions it communicated through its website to attract the right kind of new prepaid cardholders. With revenue averaging $17/month per account and a three-month average card life, a great deal of revenue potential existed within this product line. With as few as 2,000 new accounts, the financial institution would realize additional revenue of $102,000, and the opportunity to improve the financial lives of local community members.
The cards and marketing team collaborated on a special promotion targeting new prepaid accounts with a direct deposit component. Importantly, the web marketing strategy also included the deployment of geo-location strategies to mitigate fraudulent applications, which are much higher online.
Like many consumer segments, prepaid cardholders have come to expect hyper-personalized experiences. They rightly assume their provider has enough data to understand when and how they load funds, how much they typically load and spend and the ways in which they use the card. Along with that assumption comes the expectation the provider will use this data to anticipate and adapt to their needs. Data-driven prepaid strategies can help credit unions generate precisely this kind of experience, developing long-term relationships and improving access to fair, affordable and individualized financial services.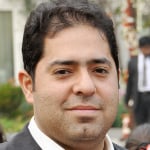 Karan Bhalla is the CEO of CU Rise Analytics and who has almost two decades of financial services and data analytics experience. CU Rise Analytics is a global CUSO helping ...
Web: https://www.cu-rise.com
Details