Data shows leadership development pays off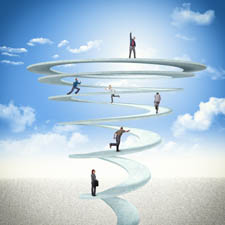 by. Lisa Hochgraf
Each year since 2005, Chief Executive magazine has sought to identify those companies that excel in leadership development. This year's top companies for leaders included P&G, IBM and General Electric.
The ranking is based on five factors: 1) having a formal leadership development process in place; 2) the commitment level of the CEO to the leadership development program, as measured by the percentage of time spent; 3) the depth of the leadership funnel, as measured by the percentage of senior and middle management positions filled internally; 4) the number of other companies that report recruiting from the company being evaluated; and 5) a shareholder value/performance metric based on the 10-year change in market capitalization.
Looking at that last criteria reminds us that the ultimate question for business leaders when it comes to leadership development is whether making the effort really pays off. Data from the magazine's program this year shows that the answer is a definite yes.
The top 15 percent of companies surveyed for the ranking had an average market capitalization growth of 200 percent over a 10-year period (2003 to 2013). This compared favorably to the 85 percent average market capitalization growth demonstrated by companies that ranked in the bottom 15 percent.
continue reading »