Onsite: Day one at the 2015 Deluxe Exchange Conference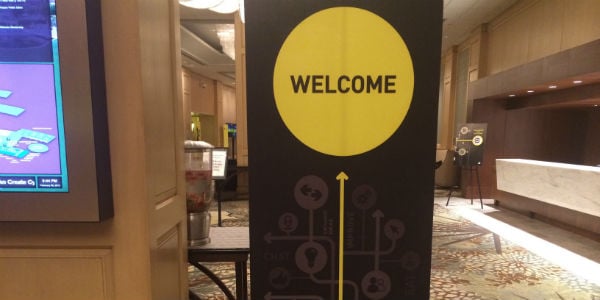 The Deluxe Exchange Conference (#DX15) opened today with President, Financial Services John Filby giving the opening presentation. John offered a glimpse of what some of the presenters would be talking about during their sessions. He thanked the sponsors, talked about the design lab, and provided a business update about Deluxe. The company now has over 5,800 employees, 5,600 customers, 1.67 billion dollars in revenue (up 5% from last year), and has over 25 locations worldwide. Deluxe is definitely a company that has been able to redefine who they are during these changing times. They aren't just a "check" company. They still offer checks, but they also provide fraud and risk solutions, marketing services, rewards and loyalty programs, as well as performance management services.
John introduced Todd Weiss, Director of Product Management, who discussed the SwitchAgent product. SwitchAgent simplifies the process of moving the consumers' accounts from one financial institution to another. The demonstration made it look very easy and user friendly.
John closed his introduction by introducing the keynote speaker Nate Silver. Nate is a renowned statistician who may be best know for his baseball statistics program that predicted a player's performance. He noted that finance is a very data driven field. Data models on poor assumptions are not good. Banks need to learn how to utilize and leverage big data. Big data can lead to wrong choices if it's not analyzed correctly.
One of the challenges of analyzing the data is filtering out the noise. Humans have evolved because we are quick witted. Sometimes it's hard to filter out the noise. The key is trying to be objective while analyzing data. Any bias will skew the results.
After Nate's keynote presentation, the Design Lab was open for all. The design lab is designed to showcase Deluxe's many service offerings. Bankers Dashboard, a web and mobile tool that provides information into your bank's performance, Provent Vault 2.0, a fraud and identity theft protection product, and SwitchAgent 2.0, a tool to assist customers with moving their accounts from one institution to another, were just a few of the live demo's going on. The design Lab was staffed with subject matter experts who really understood the products and could easily answer even the hardest questions from the participants.
Next came the breakout sessions. There were 4 sessions running concurrently. Alyson Clarke with Forrester research spoke about the consumer's digital path to purchase. Bill McCracken with Synergistics Research discussed how to reboot your rewards program. Aaron Fine with Oliver Wyman covered retail financial services, and Ron Shevlin with Aite Group discussed how to measure marketing performance.
The first set of breakout sessions were before lunch. The sessions repeated after lunch and provided a great opportunity for everyone to see multiple speakers.
Alyson shared that we've entered the age of the customer. This is based on a 20 year business cycle. Successful firms must learn how to reinvent themselves to stay relevant. The pace in this cycle is set by software firms who provide great customer experiences. Retail, news, and music are just a few industries that have been disrupted. Banking won't be an exception. Previously, financial institutions held the balance of power. Now technology allows the consumer to hold the power. Today's consumers do business on their own terms. Most banks aren't ready for this digital mind shift.
Ron Shevlin's presentation was excellent. He said bank marketers are driving blind. They need clear metrics to show how loyal their customers are. What they have now are not clear. So how do customers show their loyalty towards a brand? 78% say they spread the word about the product or service, 69% say the buy more, 15% join the brand's social media community, and just 11% say they don't consider competitors when shopping for similar services. When banks were asked what percentage of customers referred them to others, they couldn't come up with a clear answer. This is a problem. Banks need a new metric to measure customer loyalty. Ron just released a new book, Smarter Bank, that discusses an alternate, more accurate, method for measuring metrics.
The closing general session was a panel discussion. The panelists were: Tim Bates – VP of ERM/Chief Risk Officer at BECU, Robert Hayden – Senior Expert, McKinsey & Company, David Rose – Managing Director, Triente, Mark Erhardt – Senior Vice President, Retail Product Management, Fifth Third Bank. The panel was moderated by Glen Sarvady. Executive Director, Check and Payment products at Deluxe. The panel discussed current issues that banks face everyday. The audience asked questions about issues they anticipant facing in the future. A particularly hot topic was the branch of the future and new branch models, as well as the omnichannel experience. Most experts believe the branch is not dead. However, the use of the branch will most likely change over time, as will staffing requirements.
Another hot topic was disruptors. How do banks deal with them? One option was to partner with them. They don't necessarily want to replace you. One panelist told a story of H&R block. They faced a similar dilemma as today's banks when free efiling first came out. Many thought that would be the end of the brick and mortar tax prep offices. Instead, it turned out to be a lead generator. Banks should always look for opportunities.
This was a content packed 1st day of the conference. Deluxe is doing a great job of showing their customers that they can do more than just provide checks. They are a thought leader in the industry and a trusted value partner to many.
Be sure to follow #DX15 for all of the latest updates.
David Miller is one of the founders of CUinsight.com, your one stop place for all things credit union. He has been involved with the credit union community for over ...
Web: www.CUInsight.com
Details