Does your organization foster a cozy-throw-blanket culture?
A few weeks ago one of my teammates came over to our property with her family to meet our rescue horses (that's a tale for another day). When she entered our house, she said something to the effect of "your house looks so welcoming and comfortable." For most of my adult life, wherever I happened to hang my hat, guests have told me that my house feels like "home." I take these comments as a compliment. 
I have never been that person who strives to have an everything-in-its-place immaculate house (clean, yes; immaculate, no) with match-y, match-y formal rooms that look as if no one can actually sit down for fear of mussing something up. I like cozy throw blankets and a sofa that wraps you in its arms. I like colorful pieces of art and communal seating arrangements. This welcoming, creating a space where people who visit feel they belong, is a "culture" intentionally designed, a culture that reflects who I am – authentic (sometimes to a fault), approachable, extraverted, energetic. 
When I joined the team at Ent Credit Union, one of my first priorities was figuring out who Ent was, and how team members described our culture. This work resulted in our defining not just what has made us special since our founding but also what we aspire to be as we grow. Our "culture attributes" are defined by "we" statements – concise, values-based statements that serve to outline what each attribute means, with behavior expectations built in as well.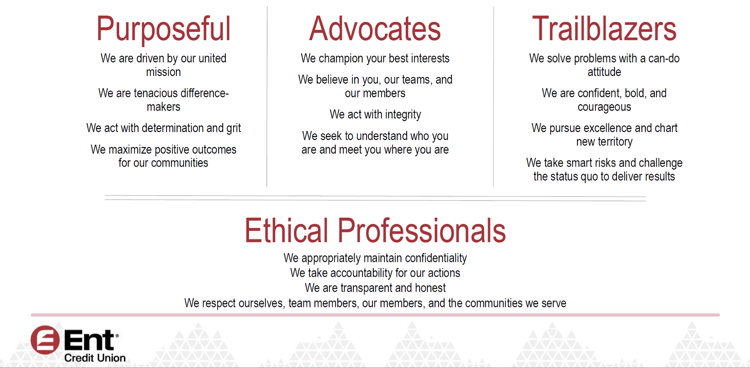 These attributes and we-statements have now become the cornerstone for key employee engagement efforts including an employee awards program, Culture In Practice (CIP). Team members nominate teammates who go above and beyond when it comes to demonstrating what it means to be Ent. Over the year, a selection committee made up of Ent team members, with no senior leaders involved, select and award over 30 CIPs of $1000 each. From this pool of stories, four overall winners are selected and celebrated at our annual Entys (Ent's version of an awards show – so much more fun than the Emmys!). 
Creating and cultivating this intentional culture does not come without the participation of every human at every level who calls Ent their work home. And this is the case for your organization too. So, how do you set about doing so?
First, seek to understand components of your current culture that make it special – uncovering your organization's heart. You must also uncover, and take a hard look at, bad habits or values that have become, perhaps inadvertently, a negative part of the culture. This look in the mirror is one of the toughest tasks, but also critical if you are to change your culture in a positive way. 
Once you understand your current state of cultural affairs, you can set about defining your aspirational culture with desired behaviors and shared values. Creating unique cultural attributes that all team members from senior leaders to front line contributors resonate with, will help with stickiness.
Now the hard part really kicks in! There is nothing easy about changing an existing culture to an intentional, values-based, engagement-driving culture. It takes patience, understanding, designing, planning, motivating, and constant and consistent reiteration. It takes commitment from leaders who model what's expected, tying culture-appropriate behaviors into performance management goal setting and conversations, and incentivizing demonstrated behaviors.  
Like throwing yourself into a comfy chair and feeling a sense of home and belonging, culture touches people in a real and, yet, intangible way. Successful efforts to evolve your culture aren't done by checking a box – launching a communication or hanging up posters or talking about it once a year at an all-team event. Long term benefits of deep employee engagement and loyalty will be realized only with sustained effort and when you align inspiration with strategy and action. After all, teammates who feel that they belong and who work with a sense of purpose and meaning are four times as likely to love what they do.* That's the kind of engagement money and title simply cannot buy. 
*2019 International Employee Survey Report / "The Future of Work is Human" / Findings from WORKHUMAN® Analytics & Research Institute Survey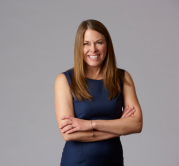 Mollie Bell joined Ent Credit Union in December 2018 as Chief Development Officer. Mollie has worked on behalf of credit unions since 2007, having worked for CUNA Mutual Group, Filene ...
Web: https://www.ent.com
Details