Dr. Seuss for Credit Unions 7: 3 Lessons for Your Credit Union From the Life of Seuss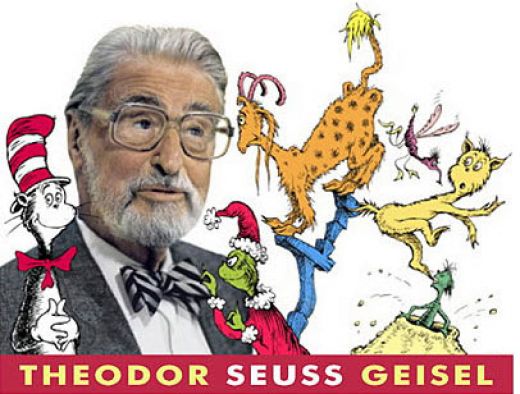 "Everything you do is great, just go ahead." How often have you heard those words from the board and management at your credit union? Probably never?
by Bo McDonald, Your Marketing Co
"Everything you do is great, just go ahead." How often have you heard those words from the board and management at your credit union? Probably never? Those are the words that Henrietta Seuss Geisel spoke to her young son, Theodor Geisel almost every day for everything he did.
Ted once drew animals on the attic walls with crayons and pencils, which was okay with his mother too. When he showed his mother a sketch he drew of an animal from the zoo – a beast with ears hanging down to its feet and beyond – his mother praised him. "What is it?" she asked. "It's a Wynnmph." "Of course it is" she said.  In the next to last installment of the Dr. Seuss for Credit Unions series, we'll take a look at three lessons from the life of Dr. Seuss. 
Criticism is opinion, not fact. As Geisel grew up, he met the criticism of the real world. The world that you and I live in. When Theodor Geisel was only 12 years old, his drawing of a man reeling in an oversized fish won first prize in the Springfield Union Newspaper's advertising contest. Geisel recalled years later:"That was my first big bang." Ted would also always remember his art teacher from Central High School in Springfield, MA. who felt that his work was less then splendid. The teacher wanted Ted to draw the world as it was, not the way he imagined it to be. "You will never learn how to draw" the teacher told Geisel. Of course, Geisel quit that class after day one. If Geisel had listened to that teacher and "followed the rules" we all would been stuck with boring books in our childhood. There would be no Grinch. There would be noCat in a Hat. There would have been no Dr. Seuss. How many of your ideas have been met with criticism and thrown out into the pasture?
Don't let your talent go to waste.  Geisel's father and grandfather were both brew masters in Massachusetts prior to prohibition. While he was a senior at Dartmouth in 1925, during the prohibition era, he was the editor of the campus humor magazine Jack-O-Lantern. One evening he decided to throw a party. He and his friends were drinking gin when they were caught.  In violation of the era's prohibition laws, campus officials demanded he resign from all extracurricular campus activities, including the Jack-O-Lantern. In an effort to continue contributing to the magazine, Geisel adopted a pseudonym, his own middle name and his mother's maiden name "Seuss." The addition of "Dr." came years later, as Geisel wrote for the humor magazine, The Judge. I'm not suggesting swigging gin in your credit union office, but always find ways to put your talent to work.
You can do better. In one of the last interviews before his death Ted's biographers asked if, after all that he had said in his many books, there was anything left unsaid. Ted pondered that question and several days later handed them a sheet of paper on which he had written: "Any message or slogan? Whenever things go a bit sour in a job I'm doing, I always tell myself, 'You can do better than this.' The best slogan I can think of to leave with the U.S.A. would be: 'We can . . . and we've got to . . . do better than this.'"
I'm honored to meet many young and bright minds that are part of the credit union industry. Don't be the art teacher who criticizes the fresh ideas of the up and comers in the credit union industry. You might very well be tossing the one idea that can save our industry into the eternal rubbish bin. Likewise, never let obstacles stand in your way of the important work that your credit union does. When your board or examiner restrict you from using your talents, find another direction and carry on.
Benjamin Franklin once said ""Hide not your talents, they for use were made. What's a sundial in the shade?" And finally, you can do better. If your credit union is going to endure and prosper in today's economy,   you must do better. We can all do better. We must do better than this if the credit union industry as a whole is going to survive.
"Don't give up! I believe in you all. A person's a person, no matter how small! And you very small persons will not have to die If you make yourselves heard! So come on, now, and TRY!" – Dr. Seuss
Bo McDonald is president of Your Marketing Co. A marketing firm that started serving credit unions nearly a decade ago, offering a wide range of services including web design, branding, ...
Web: yourmarketing.co
Details