Dye, pie, and capes—oh my!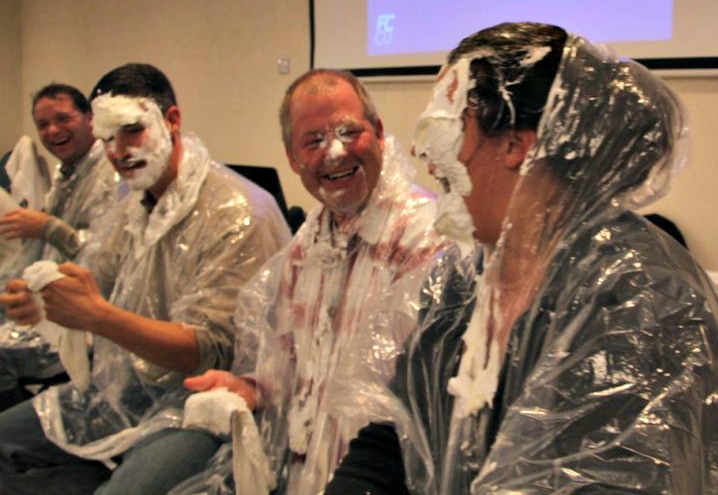 Stunts by First Community CU's marketing team spark charity drive participation.
by: Adam Mertz
Sometimes, credit union marketing departments and executives need to take one for the team—even if that means dyeing your hair, standing on a corner in superhero gear, or taking a pie to the face.
With donations lagging for a quarterly charity drive benefiting area domestic violence and sexual assault crisis centers, marketing manager Janna Bergstedt and marketing specialist Katie Dressler brainstormed about how to spur participation by staff and members at First Community Credit Union in Jamestown, N.D.
Their solution? A tiered incentive system they promoted in branches and through social media.
When First Community amassed 500 items most needed by these centers—such as paper products, personal hygiene items, hair dryers, and diapers—Bergstedt and Dressler dyed their hair blue.
At 750 items, the credit union's senior management donned capes—a signature item of their checking vendor, Kasasa—and waved to motorists on a busy street.
At 1,000 items, managers volunteered to take a pie in the face at an all-staff training session.
The plan generated a 200% jump in donations—amassing 1,200 in all—and First Community generated $2,000, including an extra $100 by soliciting $1 donations from staff through a drawing to toss the pies.
continue reading »