Economic & CU Monitor notes membership, loan growth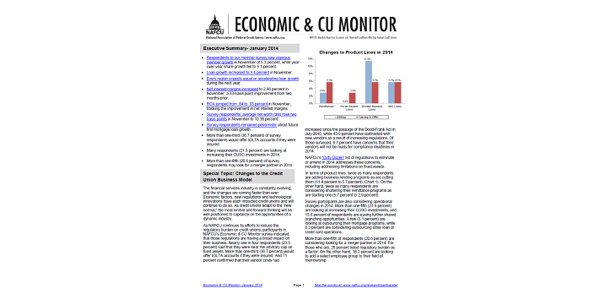 Results from the latest Economic & CU Monitor survey reveal that despite the current regulatory environment, NAFCU-member credit union respondents saw 5.3 percent year-over-year membership growth in November and 8.4 percent year-over-year loan growth during the same month.
Also of note in January's Monitor:
in terms of product lines, twice as many respondents are adding business lending programs as are cutting them (11.4 percent vs. 5.7 percent);
twice as many respondents are considering shuttering their remittance programs as are starting one (5.7 percent vs. 2.9 percent);
38.2 percent are looking to add a select employee group to their field of membership;
21.9 percent of respondents are looking at increasing their credit union service organization investments in 2014; and
15.6 percent of respondents are eyeing further shared branching opportunities.
Taking into consideration the current regulatory environment, nearly one in four respondents said they were near the arbitrary cap on fixed assets and 71 percent confirmed that their vendor costs had increased since the passage of the Dodd-Frank Act. Also, more than one-third (36.7 percent) would offer interest on lawyer trust accounts if they were insured.
continue reading »