Economical makeover strikes a chord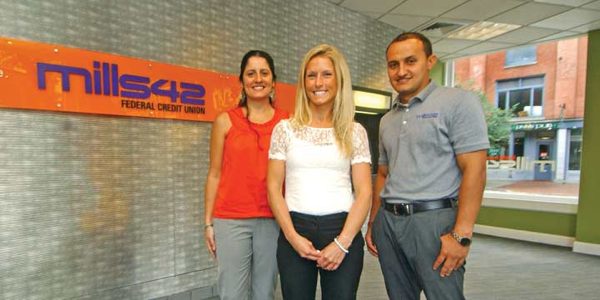 Find the one thing that makes you truly special and accentuate it.
Hitting the right tone on a new name for a longstanding credit union in gritty—but increasingly eccentric—Lowell, Mass., was challenge enough.
Doing so at a cost appropriate for a $14 million asset institution introduced another level of difficulty.
But thanks to a clear mission and a conscientious agency partner, Mills42 Federal Credit Union accomplished a six-month rolling makeover this year that's paying dividends even before the forthcoming launch of an external marketing campaign.
The former M/A-COM Federal Credit Union projects membership growth for the year as high as 4%, and loan growth at 6%, buoyed by strong performance in auto and other consumer loans.
"I didn't have a lot of faith in the name change changing our productivity, but I didn't think it could hurt us," says Carla Waldo, a 10-year employee who became CEO three years ago. "All of a sudden we're growing. The change has brought a greater interest from members and nonmembers alike."
The idea to alter the credit union's name hatched in 2005 when it relocated outside the headquarters of its single sponsor, a technology solutions manufacturing company that had downsized.
The recession moved the topic to the back burner, where it percolated nearly eight years before becoming a reality. The first consultant contracted to generate a new name struck out, but a new agency, Raoust+Partners, struck a chord with its suggestion to honor the roots of the nation's first large-scale factory town.
After meeting with staff and surveying the city, Raoust produced a single choice: Mills42, linking Lowell's textile mill roots with its latitudinal degree—relevant because of its commercial shipping port.
The tagline, "Build From Here," sealed the deal, says Waldo, because it conveys Mills42 Federal's focus on improving the fortunes of low-income consumers.
The credit union revamped its lone branch, a downtown storefront, with better lighting and accents, and a dynamic orange, purple, and green color scheme that replaced a single shade of green.
The colors, which also grace the credit union's new website, reflect the city's vibrant, artsy, young, and culturally diverse population. Mills42 Federal staffers speak Spanish, Portuguese, and Cambodian, serving members in their native tongue.
continue reading »