Extending ECM beyond your core
Integrating crucial technologies within your credit union is critical to stop software sprawl and squash information silos. Instead of buying more software, credit unions should be exploring more efficient ways to integrate their existing systems and reduce the mounting pressure on IT staff. The best solutions will help you do more with less by connecting your important systems and giving you a single place to store and manage information.
Oftentimes, the first step in this battle is integrating an enterprise content management (ECM) solution to your core banking platform – connecting the data inside the core to outside, related content. Since you already know that ECM centralizes all types of critical content and connects it to the data in your core, providing users with instant access to all relevant information directly from their familiar system interface, why stop there?
After all, it's possible to connect your entire financial institution.
3 areas to extend ECM beyond the core
In accounts payable departments, invoices and other documents constantly roll in from different locations and in different formats, making the capture and organization of vital information a challenge. Integrating your AP software with ECM achieves faster, more precise invoice processing. No matter how you receive invoices, ECM captures, organizes and delivers those documents, along with supporting content, to the appropriate individuals for review, coding and approval.
By speeding invoice approvals with the automation you gain by integrating ECM with your accounting software, you have the ability to negotiate deals with your vendors. Offering to pay invoices early in exchange for a discount is an offer many suppliers will take you up on. Even one or two percent adds up if it's a third of your spend.
HR systems designed to handle data often provide only a basic content repository with limited capabilities. You need an ECM solution that delivers a full range of enterprise-class, secure document management capabilities on a single platform. Seamless system integrations allow HR staff to view personnel documents and content — like direct deposit forms, W-4s, leave requests, employment contracts and correspondence — right alongside supporting employee data in the core HR application.While your central HR systems manage specific employee data, there are related tasks, activities, conversations and other information being managed outside these systems — via email inboxes, spreadsheets, file shares or legacy applications. ECM consolidates scattered data, tasks and activities living outside your main HR systems into a single location where they are connected and tracked.
If your employees are spending too much time comparing data during quality control or searching for critical documentation, then it's time to integrate your loan origination system (LOS) with your ECM solution. ECM provides your employees with integrated document retrieval directly from within your servicing platform. Users stay in the LOS and quickly find whatever they need. Because we're no longer in the Information Age, we're in the Information Management Age.
Dynamic tracking is another huge benefit of integrating ECM with your LOS. This tracks refinancing, purchase and construction documents, automatically notifying key stakeholders when documentation is incomplete or missing – speeding those processes dramatically.
Connect for the win
Your credit union simply can't afford to have your data held captive in silos. Especially if you're trying to offer your members the most competitive products and services. ECM goes beyond linking content to your core by also managing the related processes and data – all on a single enterprise information platform.
In the Information Management Age, the best way to attract and retain members is to show them you can do just that – manage their information intelligently. Otherwise, they have many, many other choices.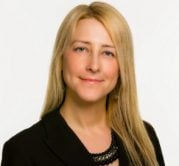 Michelle Shapiro has more than a 15 years of experience in the banking industry to her role as Financial Services Industry Expert at Hyland Software. Her mission is to share ...
Web: www.onbase.com
Details