FDIC-insured Institutions Increase Income in 2Q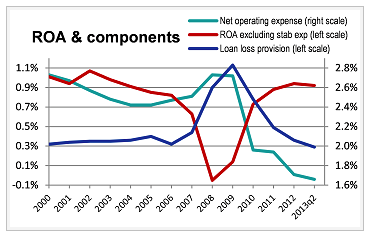 Federal Deposit Insurance Corporation-insured institutions reported an aggregate net income of $42.2 billion in the second quarter of 2013 – a $7.8 billion increase from the $34.4 billion in profits that the industry reported a year ago.
This is the 16th consecutive quarter that earnings have registered a year-over-year increase, according to the FDIC's press release.
The average return on assets for FDIC-insured institutions rose to 1.17 percent from 0.99 percent a year ago. This is the highest quarterly ROA for the industry since the second quarter of 2007.
Aggregate ROA at credit unions (including stabilization expense) has recovered to pre-recession levels, and stood at 85 basis points in the second quarter. ROA was 92 basis points excluding the stabilization expense. The improved earnings were due to declining expenses and loan loss provisions as loan quality improves along with the recovering economy.
"This is great news for credit unions as the data shows they've fully recovered from the recession," said NAFCU Director of Research and Chief Economist David Carrier. "Improving loan quality has allowed them to reduce loan loss provisions and that has improved their net income."
Among other second-quarter findings for FDIC-insured institutions:
continue reading »