Final in trio of women who embezzled a half a million dollars from credit union is sentenced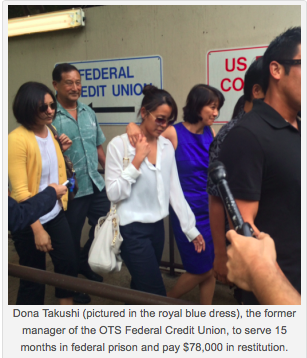 The final defendant in a trio of women who collectively embezzled a half a million dollars from the Oahu Transit Services Federal Credit Union was sentenced Thursday, Sept. 19, in U.S. District Court.
U.S. District Judge Helen Gillmor ordered Dona Takushi, the former manager of the credit union, to serve 15 months in federal prison and pay $78,000 in restitution.
Takushi, 54, earlier pleaded guilty to one felony count of embezzlement and misapplication of funds and two felony counts of false entries into the books of the credit union.
U.S. Attorney Florence Nakakuni said Takushi obtained online access to the credit union's VISA payment system and falsely inputted $40,000 worth of VISA payments for herself and a family member between 2010 to 2012.
In addition, between 2007 to 2012, Takushi made 153 false entries into the credit books so that she and an associate could obtain over $55,000 in loans that they could not qualify for, Nakakuni said.
Finally, in 2009, after a customer turned in a 2008 Subaru Forester because the customer could no longer afford payments on the car, Takushi falsely charged-off the $18,000 car loan and did not log the car into the repossessed collateral inventory records. She then executed a transfer of title putting herself and her daughter on the car title as owners without any payments made to the credit union, Nakakuni said.
Her defense attorney, Howard Luke, told reporters that most of the restitution had already been paid, his client is "extremely remorseful", and her friends are "perplexed" by her actions, because they know Takushi is a "good person."
continue reading »