Five Signs Your Credit Union Is Sliding Into Mediocrity
"The damage was slow and quiet, incremental, like a single loose thread that unravels a sweater inch by inch."
–Howard Schultz, president and CEO of Starbucks, in his book Onward
Downward shifts don't often happen overnight. In many cases, negative trends take place slowly. This is certainly the case with credit unions. As Jim Collins says in Good to Great, "good is the enemy of great." While we might think our credit union is performing well (good), perhaps it is actually heading away from greatness and sliding into mediocrity.
So how do you know if your credit is headed in the right direction? Here are five signs your credit union is sliding into mediocrity:
(1) Your focus is on numbers and not members.
ROA. ROE. Net income. Ratios. We live in a financial services market so we tend to monitor financial results. Credit unions should review key numbers and ratios. However, as leaders we must watch our focus and not allow the pursuit of hitting ratios and numbers to completely guide our decision making process. In other words, we should focus on our members—and not just our numbers.
Patrick Adams, CEO of St. Louis Community Credit Union notes, "We have adopted the same methods and measurements of big banks and Wall Street. We are judging ourselves by our quarterly call report measurement data. No one is thinking long term anymore."
Credit unions are in business for people. That may sound like "old school" philosophy but it is also true. As a management team and board, are you running your credit union to hit certain numbers or are you running it to help people?
"If you take care of people, you'll have profit," Adams continues.
Consider Federal Express as an example. Their CEO, Fred Smith, once said, "One of the things we recognized about 10 or 12 years ago was that probably of all of the assets on our balance sheet, none was more important than the brand, even though it wasn't capitalized at all."
Numbers are important to credit unions—that shouldn't change (especially as a measurement). But when the measurement tools become the ultimate goals, then credit unions begin sliding down a slippery slope into mediocrity.
Ultimately, rock star and U2 lead singer Bono has the best words of advice: "You can't measure the true success of a company on a spreadsheet."
(2) Start board meetings with "I remember when…" (focused on past and not future).
There is a classic "castle and moat" theory in business. It says that too many times we view our business (or in our case credit union) from the viewpoint of the castle. We see our "subjects" i.e. "members" from the castle walls. Instead, we should look at our credit unions from across the moat: that is the way our members see us. When was the last time you looked at your credit union from the viewpoint of a member or potential member?
As executives and board members we should treasure the past. However, we should not focus on the past to the detriment of the future. Think of the legacy you want to leave your credit union. Make sure your executive staff and board are spending ample time discussing where it wants the credit union to be in five, 10, 15 and even 20 years from now. Too often we talk about where we want to be next month and not next year.
When interviewed years later, Paul McCartney of the Beatles indicated that the beginning of the end for the iconic group was actually their famous concert in Shea Stadium (with thousands of screaming fans).  Their height of popularity actually contributed to their eventual downfall. For credit unions, that means we must be careful not to rest on our past successes.  We should celebrate our success—but not rest on it.
We must never become too comfortable. As author John Maxwell says, "Discomfort is a function of growth." If things are too comfortable at your credit union, then eventually you will stop growing (which means you will start sliding—in the wrong direction).
(3) Have not offered a new product in the last year.
When was the last time your credit union offered a new product? If it's been longer than one year then you are perilously close to sliding into mediocrity.  The credit union's executive and management team is charged with developing new products and services for the members.
One source for great ideas and new products is the Filene Research Institute (filene.org). You can visit their website and see many new ideas your credit union should consider offering, including Money Maximizer, prize-based savings accounts, MatriMoney, Debt in Focus  and Auto Resource Center to name a few.
Consider St. Louis Community Credit Union. While many institutions were pulling back during the recession, they focused on growth. In fact, Adams challenged his management team to develop 12 new products and services in 24 months (yes, an average of one every two months). "Everyone was going to hunker down, so we knew the market would open up to us," Adams noted.
"We're starting to sense that in credit union members' mindset, innovation is now expected," notes Jeff Rendel, president of Rising Above Enterprises. "You want your members saying, 'Can you believe what my credit union just did.' Innovation is now expected."
Credit unions tend to be inherently conservative. It's time for us to take more risks by bringing new products to the market. Failure to do so may seem minor, but if you don't, your slide has begun.
(4)  Groundhog Day Effect: Doing same thing over and over again.
In the comedy movie Groundhog Day, the main character (played by Bill Murray) was trapped in the same day. Every day was February 2. Every day was the same. Do you ever feel like that at your credit union—that you are doing the same thing over and over again and nothing changes?
As a credit union executive, you must get out of your comfort zone. It is so easy to fall into the trap of repeating the same information at every management team or board meeting. We look at the same loan and delinquency reports. We get the same updates from the same departments. Our branches say the same thing they did last month. We settle into a credit union glut.
One of the challenges for credit union executives is to constantly push your credit union to do new things. As the old saying goes, "the definition of stupidity is doing the same thing over and over again and expecting different results."
If you want your credit union to grow more than it has, what is your credit union going to do different? What action steps are really different than last year's? If all you are doing is cutting and pasting plans from previous years into this year's strategic plan then you are well into your mediocrity slide.
(5) Experiencing the "accumulation" effect.
What is the "accumulation" effect? This refers to many of the philosophical challenges we face as credit union leaders. In order to compete, we sell our credit card portfolio, have 17.9% car loans, offer  exorbitant courtesy pay fees, have ATM surcharges and a bonanza of fees. Taken separately, those may not be that bad of a deal. In fact many of them are sound and prudent business decisions.
However, the accumulation of those actions then causes us to look just like other financial institutions. We cannot get away from our roots.
Ultimately, credit unions are problem solvers.  As Matt Davis, of the Filene Research Institute notes, "The second we get out of the problem solving business is the second we are cast into irrelevancy."
Paying close attention to these five signs will help guide your credit union forward (and not just stand still while it slides into mediocrity).
Mark Arnold, CCUE, is an acclaimed speaker, brand expert and strategic planner. He is also president of On the Mark Strategies, a consulting firm specializing in branding and strategic planning. Some of the services Mark provides include strategic planning, brand planning, leadership/management training, marketing planning and staff training. His web address is www.markarniold.com and his blog is blog.markarnold.com. You can also contact him at 214-538-4147 or mark@markarnold.com.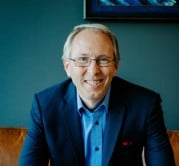 Mark Arnold is an acclaimed speaker, brand expert and strategic planner helping businesses such as credit unions and banks achieve their goals with strategic marketing insights and energized training. Mark ...
Web: www.markarnold.com
Details