Five Ways to Jumpstart Your 2013 Marketing Plan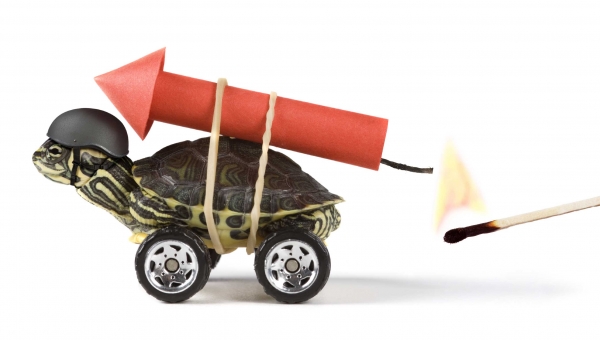 by Mark Arnold
Believe it or not, the close of another year is almost upon us. Amidst all the parties, deadlines and vacations of the holiday season, I hope your credit union finds time to pause and reflect on what was hopefully a successful year. Time stops for no person, though, and 2013 is already knocking on your door.
Every marketing year should leap out of the starting gate, fresh with excitement, zeal and possibility. With that in mind, consider the following five ways to help jumpstart your marketing plan for the New Year.
Focus, focus and re-focus on your brand. Your credit union brand is everything you do, say and exhibit as an organization, from your tweets to the way your front-line staff handle member interactions. Use the New Year as an opportunity to hammer this maxim home with your staff. For some great insight on building your brand and content marketing strategies, check out this article.
Do local mystery shops. When was the last time you checked out your competition, both credit unions and banks? Take a stroll into their local offices, with an eye open for key things like their marketing collateral. Take note of how well (or poorly) you were welcomed in each facility and ask focused questions like "Why should I bring my business here," "what makes you different than the competition" and "tell me more about your checking account/loan/deposit account options." You can also do telephone and website mystery shops. Tally what you find and use it as a local benchmark for member service. Then strive to beat that benchmark, every day and in every way.
Review 2012. What worked well? What didn't? Be brutally honest. What would you do differently now, looking back? A little Monday morning quarterbacking doesn't hurt, as long as you use it to constructive ends. And don't forget that while it's great to remember past successes, they will never be good enough again in a relentless pursuit of member service excellence. Just as members will always expect more of you, you must always expect more of yourself.
Harness the power of public relations. If you're not already using PR at your credit union, you should. Develop an annual PR strategy that both compliments and enhances your overall marketing/branding plan. Use PR to help leverage name recognition with local news outlets, and then avail yourself to them when stories of financial interest are on their news radar. Most media outlets are always on the hunt for a good expert quote or interview. Establish your credit union in their mind as that go-to source.
Increase your social media efforts. Powerful communications tools like Facebook, Twitter and YouTube aren't going anywhere anytime soon. Your members (and potential members) are using these platforms and your credit union must meet them there. If you haven't already, develop a comprehensive brand-enhancing social media plan. And don't just use it to talk; use it to listen. Take the pulse of the community and your membership by what they say in general, and about your credit union specifically. Make sure your social media efforts help promote your other marketing campaigns and special events. Whenever possible, track social media ROI and report back to the executive management team. There's an information revolution taking place in social media. Don't let your credit union miss it.
There you have it; five simple ways you can help jumpstart your credit union marketing endeavors for 2013. Remember, years tend to fly by and before you know it, it'll be June and everyone will be saying "where the heck has half the year gone?" Be in a position so that when the time does fly, you can look back confidently, knowing you did the best you could with the time you were given.
Best wishes for a prosperous and blessed New Year!
Mark Arnold is an acclaimed speaker, brand expert and strategic planner helping businesses such as credit unions and banks achieve their goals with strategic marketing insights and energized training. Mark ...
Web: www.markarnold.com
Details