Follow the Laws of Branding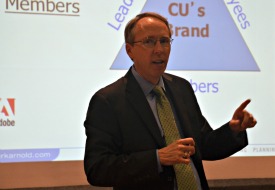 Business development staff are CUs' branding 'secret weapon.'
By Bill Merrick
Smart credit unions don't push products, they promote their brands, says Mark Arnold, president of the On the Mark Strategies. And business development staff are credit unions' "secret weapon" in this process.
Arnold addressed the CUNA Marketing & Business Development Council Conference Sunday in Anaheim, Calif.
Branding, he says, is the process of determining your competitive advantages and building them into an institutional culture. A successful brand has three key elements:
1. Clarity. Does everyone in the credit union know exactly what it stands for? Nordstrom's, for example, is known for its service, and Volvo's brand is synonymous with safety.
"It's about who you are as employees, members, and business development professionals," Arnold says.
2. Consistency. Are your branding efforts consistent through all delivery channels?
3. Constancy—always being in front of the communities you serve.
"You can't go 24 hours without seeing Coke's logo," Arnold explains.
continue reading »