GDP up 2.6% in 4Q, consumer spending high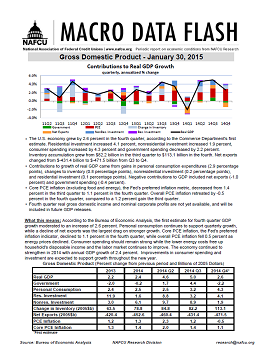 The U.S. economy grew 2.6 percent in the fourth quarter as consumer spending hit its highest level in nearly nine years, according to NAFCU Chief Economist and Director of Research Curt Long.
Long, who analyzed the Commerce Department's first estimate measuring gross domestic product, said in a NAFCU Macro Data Flash that the overall report supports "a more accommodative stance on monetary policy." He explained that net exports were "a big drag" and core inflation continues to fall. "The declines in net exports due to weakness abroad along with low inflation support keeping rates where they are," he said.
The report also showed that residential investment increased 4.1 percent, while nonresidential investment increased 1.9 percent. Also, consumer spending increased 4.3 percent as government spending declined 2.2 percent.
Inventory accumulation grew from $82.2 billion in the third quarter to $113.1 billion in the fourth quarter. Net exports changed from $-431.4 billion to $-471.5 billion from the third quarter to the fourth.
continue reading »