Global credit union membership rises to 217M in 2014: World Council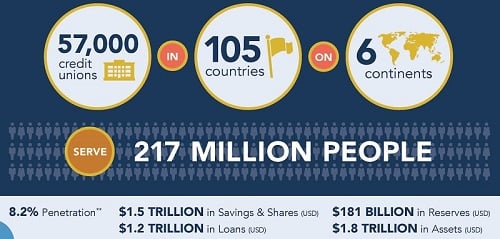 Since 2013, world credit union membership has increased by nearly 10 million to 217 million members, according to the World Council of Credit Unions' newly released Statistical Report.
The report provides membership and financial data as of December 2014 from credit unions and financial cooperatives worldwide. This year's report–released just days before America's Credit Union Conference and the World Credit Union Conference begins in Denver–includes information from 57,480 credit unions in 105 countries.
Africa, Latin America and the Caribbean area were the fastest growing world regions in terms of credit union membership. Also in 2014, worldwide assets were reported at $1.8 trillion; savings at $1.5 trillion; loans at $1.2 trillion and reserves at $181 billion. New countries reporting 2014 data included Albania, Iran and the Netherlands.
"Membership growth is a priority for credit unions worldwide," said Brian Branch, World Council president/CEO. "Our vision, as a global community, is to reach 260 billion members by the year 2020."
continue reading »