Good Governance: 9 Leadership Challenges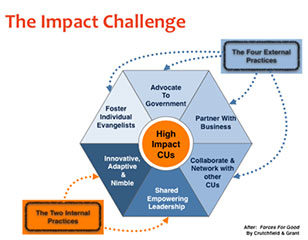 The board of the future will need the strength to overcome these.
by: Michael Daigneault, CCD
At Quantum Governance, we've been taking a look at what the credit union board of the future will look like and, almost more importantly, the challenges it will face. Ultimately, we have identified nine key challenges that are already (or will be) confronting your leadership.
1.       The Composition Challenge. Gone are the days when your credit union can simply rely on a nice cross section of its membership to fill open slots on its board. The most progressive boards today are actively recruiting the talent they need; identifying the skill sets that deliver the talent, connections and expertise they need on the board; and then inviting those individuals to become members of the credit union.
2.       The Technology Challenge.  The rate of technology is changing at lightening speed. I don't have to tell you that. But here's the thing. It's changing at a faster rate than anything else we've ever seen. Faster than political change, business change and even social change in our world. Is your board ready? Is the credit union?
3.       The Community Challenge. The very notion of community is being altered by technology. Community is ceasing to be largely defined by geography and more often it's defined as a sense of belonging. How does that impact your "community" credit union? Indeed, as a credit union member myself, I haven't set foot in a local branch for more than a decade. What does that mean for your business? Is your board discussing the impact of this from a strategic point of view?
continue reading »