Have a happier Thanksgiving by dodging these spending pitfalls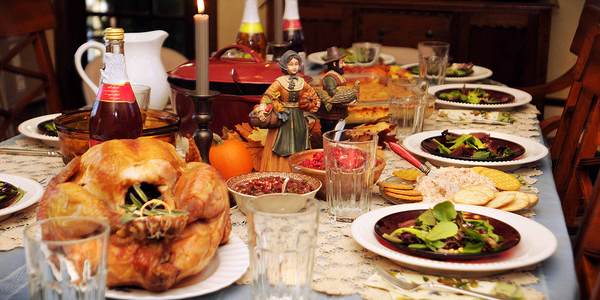 Even with the most careful planning, a Thanksgiving budget can fall victim to bad weather, cranky relatives, and recipes that stray a bit too far toward the avant garde.
Given that this is the last weekend to prepare and shop before your holiday celebration, let's run through some of the more common budgetary traps, and how to dodge them:
The "Traditional" Dinner
Turkey. Potatoes. Pie. Some things just seem to belong on a Thanksgiving table. According to a survey by the American Farm Bureau Federation, the average cost to prepare the traditional Thanksgiving dinner for 10 people has fallen about 1 percent to $49.04 this year. At just $4.90 per person, that's quite a bargain. But some families go overboard on "tradition" and try to include everything that's ever appeared on a Thanksgiving table. That can get costly.
"Thanksgiving dinners are notorious for being too elaborate and wasting food," says Coryanne Ettiene, a cooking show host and mother of three. "Create a menu that allows each guest to have two to four sides rather than the common six sides," she says. "Where possible, make your menu from scratch, using similar ingredients to carry the cost across the whole meal. If you have only one recipe that calls for saffron and can't use it in any other dish, maybe you skip the saffron this year."
Nan Langen Steketee of Philadelphia cooks a large Thanksgiving dinner each year for more than 20 friends and family. Together, they keep the emphasis on the traditions themselves, rather than which plate they're served on. "We make our own applesauce from a family recipe," she says. "The apples are in-season and not terribly expensive, and it just tastes better." Steketee saves bread scraps in the weeks leading up to Thanksgiving to make stuffing, and uses the giblets from inside the turkey for flavor. Her guests all help with the preparations, and then enjoy the meal together.
A Plus-One for the Plus-One? 
A seating arrangement at a large family Thanksgiving dinner can be as complicated as a small wedding's, and the inclusion of last-minute plus-ones can throw off even the most carefully orchestrated meal. But according to the guide for Thanksgiving etiquette by Emily Post, simply saying "no" to those guests isn't very polite. Since getting a firm head count can be difficult with the more spontaneous family members, have a plan in place or some extra sides available to account for drop-ins.
continue reading »