HGTV Host a Public Relations Bonanza for Michigan Credit Union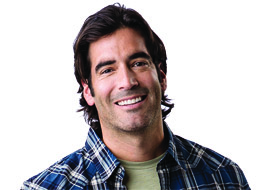 Lake Michigan Credit Union signs HGTV's Carter Oosterhouse as a celebrity spokesman.
Signing Carter Oosterhouse as a celebrity spokesman has been a public relations bonanza for $2.7 billion asset Lake Michigan Credit Union (LMCU) in Grand Rapids, Mich. The credit union counts the host of HGTV home improvement shows among its more than 252,000 members.
Oosterhouse, who became a carpenter's apprentice at age 12 while growing up in Traverse City, Mich., is the focal point of a marketing blitz centering around a $25,000 home makeover sweepstakes.
The grand prize includes a two-hour consultation where he'll provide design ideas and eco-friendly building tips.
Oosterhouse appears in three television commercials and in ads on billboards and in print, as well as on brochures and LMCU's website.
The credit union also launched a social media campaign to prompt entries for the sweepstakes, which closed April 30, with the winner drawn May 17.
The feedback has been impressive. The sweepstakes drew 61,000 entries in the first six weeks, during which time LMCU more than doubled the "likes" on its Facebook page, to nearly 5,000. Branch traffic is up as well.
continue reading »